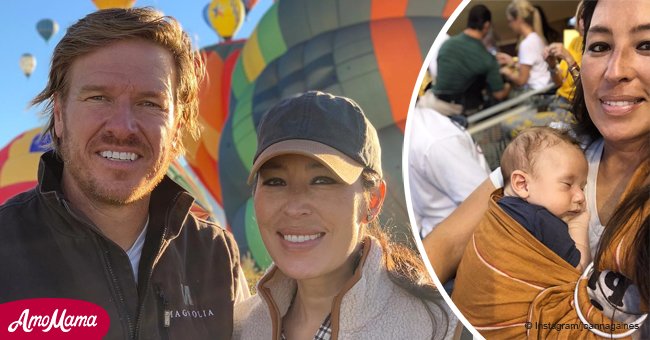 Here's what Chip and Joanna Gaines looked like 15 years ago

The 40-year-old entrepreneur and reality TV star is looking back in time as her and her husband's business arrives at its 15th anniversary, and she shared beautiful throwback photos on social media.
On October 20, 2018, former "Fixer Upper" star Joanna Gaines took to her Instagram account to commemorate the 15th anniversary of Magnolia, the small business she and her husband Chip started as a modest decoration shop.
It was in 2003 when the celebrity couple had just married when they opened the store from where their present empire was built, and now that they have gotten so far, Joanna wanted to share some pictures from back then with her fans.
The mother-of-five captioned the slideshow with some stories related to the photos, apart from expressing how satisfied and proud she was after having achieved so much. Read more on our Twitter account @amomama_usa
Joanna's followers were delighted to have a glimpse of how she and Chip looked 15 years ago, 10 years before they landed the HGTV series that turned them into household names. They don't seem to have aged all that much.
"I have zero regrets though about stepping out and just going for it- this shop, this business, it has our hearts. We are so thankful and this is why we SILOBRATE! Thank you to everyone who has supported us over the years, we wouldn't be here without you."
-Joanna Gaines, Instagram, October 20, 2018.
In the time that has passed since Joanna and Chip started to pursue their dreams together, they have not only seen their business grow into a multi-faceted company and starred in a beloved TV show. They have also build a beautiful family.
Together, they have brought five beautiful children, with the youngest addition to the family being 4-month-old Crew. The famous couple always put the family as the top priority.
Recently, 43-year-old Chip took to Instagram to share an impressive photo of a stunning sunrise in the countryside that, as he was proud to tell his followers, was taken by his and Joanna's 12-year-old daughter Ella.
"Good morning! #FarmLife Photo by: Ella," Chip captioned the snapshot, which received more than 260.000 likes.
Since "Fixer Upper" aired for the last time on April 2018, following Chip and Joanna's September 2017 announcement that they were no longer be on the show, their fans only have social media to keep following the star couple.
So, if you want to know what these two and their little ones have been up to after leaving HGTV, we invite you to take a look at this article, which tells about why did they decide to move on and what their current projects are.
Please fill in your e-mail so we can share with you our top stories!