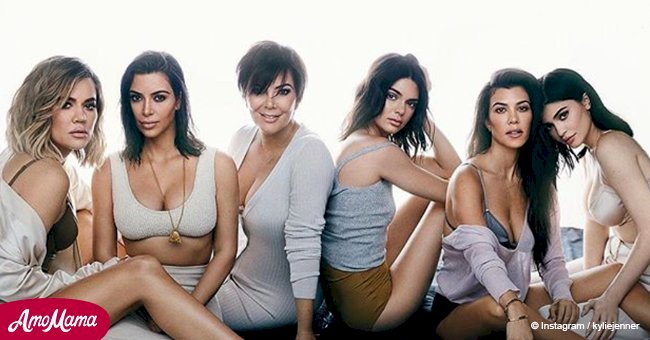 Kylie Jenner shares precious photo of mini-me daughter Stormi's 'first pumpkin patch'
Kylie Jenner and Travis Scott had an adorable family day full of pumpkins and cute animals. They shared the best photos of their daughter Stormi with us.
Stormi Webster, now eight months old, looked quite comfortable among a large pumpkin patch at Underwood Family Farms.
She wore a white Supreme shirt, camouflage pants, and black sneakers. She and her parents spent some time at the farm in the San Fernando Valley.
Follow us on Twitter for more @amomama.
Jenner titled the picture "first pumpkin patch." It was also the first Halloween-themed photo among a group of three she shared yesterday. And tiny Stormi was the focus of all of them.
In another photo, the entire family sat on a tall haystack. Both she and her boyfriend are looking down at their daughter who is holding a hand to her face.
Jenni wrapped up the set with a picture of Stormi standing on her father's lap. He snuggled his face into her neck as she paid attention to some machinery behind them.
Her dad wore a matching khaki jacket and a light brown hat to follow suit with his daughter's outfit. It appeared that Scott later took a candid picture of Jenner as she fed some baby goats with Stormi on her lap.
Adorable Stormi gazed at the non-human baby while Jenner looked up in mind surprise. The 21-year-old mom wore black and white sweats and switched between a pink and black jacket in the photos.
The final two photos again feature the father-daughter pair. One has Stormi sitting on her father's neck in front of a corn maze. In the last one, Stormi is pointing out something to a smiling dad as they sit on the hay patch.
Fans went crazy seeing Stormi prepare for her first Halloween. And it appeared her parents did so as well considering the many photos they took.
But Jenner's followers were not on board for a previous landmark of her daughter. Back in July 2018, some persons criticized the socialite for piercing Stormi's ears.
Jenner shared a video showing Stormi's pierced ears on her temporary Snapchat story. Before it expired, followers shared it on other social media platforms. One Instagram user called it "utterly disgraceful."
Jenner never responded to the backlash of her actions. But her transgender parent Caitlyn Jenner did not hold back in his opinion on certain matters in 2015.
"The Trump administration has ferociously attacked my community again," she said. She was referring to controversial ways the military categorized the gender of persons.
They appeared to decrease recognition of trans people as they would look only at the person's sex at birth to designate them as male or female.
But Jenner turned her views around and voted for Trump in 2016 after hearing his stance on LGBT rights.
Please fill in your e-mail so we can share with you our top stories!