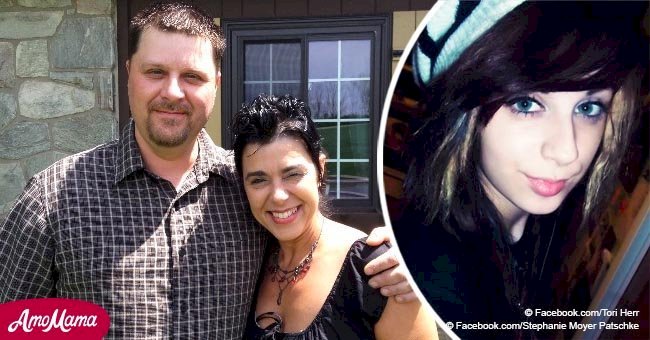 Family gets almost 5 million for their teen daughter's heroin withdrawal death in jail

The court has ordered The Lebanon County to pay nearly $5 million for the death of Victoria "Tori" Herr. The lawyer said that she could have easily been saved.
Tori Herr was 18 when she got arrested in 2015. The police were searching for drugs in her boyfriend's Pennsylvania apartment when they found and arrested her.
Early on, Herr informed the staff of the Lebanon County Correctional Facility of her addiction. She told them she used up to 10 bags of heroin daily.
Follow us on Twitter for more @amomama.
According to Lebanon Daily News, she also divulged her fears to a cellmate. She said the withdrawal process would prove to be a great challenge. Sadly, it actually proved too much for Herr to handle.
After four days of severe vomiting and diarrhea, Herr became dangerously dehydrated. They took her to the medical unit. Officers thought their provision of some water, Ensure, and adult diapers would suffice. It didn't.
Civil right lawyer Jonathan Feinberg said:
"Anyone who looked at her would have known that she was very sick and that she needed attention. There was a complete disregard for her needs, which can only be tied back to the fact that she was addicted to drugs."
By the time they took Herr to the hospital, it was too late. Had they admitted her earlier, intravenous fluids would have surely saved her. She passed on April 5.
A year later, her mother Stephanie Moyer filed a suit for civil rights and wrongful death action. The defendants were the County and prison officials, including nurses and the prison doctor.
Feinberg alleged that staff lied about checking Herr's vital signs before her death. The family received $4.75 million earlier this month.
The settlement was "resolved amicably" according to the defendants' lawyer Hugh O'Neill. But he did not reveal any changes to policies following the situation with Herr's death.
Studies show that around 25 percent of local jails consist of opioid addicts. The Daily News puts the number of nationwide jail deaths related to heroin at over a half-dozen in two years.
It becomes more disheartening considering that death from opioid withdrawals can be easily avoided. All that is required is monitoring, medication, and intravenous fluid intake as required.
The nation recently reported an opioid crisis, worsening fears. Families might have taken the jail time as a way to help their familymembers.
Feinberg said in 2016:
"Obviously, this is an emerging, growing problem and it's hitting communities all over the country. That's exponentially so in jails."
Things are reportedly looking up as policymakers attempt to increase intervention and offer medical help to addicted persons in jail.
The Pennsylvania Secretary of Corrections began giving methadone and other drugs to help the withdrawal process of inmates.
Steve Seitchik, a coordinator of the Medication Assisted Treatment program, said:
"The tide is turning. I think very slowly, but surely, there's a lot of entities that have had to really look in the mirror, and ask how are they dealing with this medical condition."
The situation was handled more positively by an officer in August 2018. Jesse Whitten decided to adopt the child of a homeless drug addict.
Despite having three kids, the Santa Rosa Police Department officer was happy to help in such a big way. He spoke with his wife. They then took up the request from the struggling mother.
The mother, named Maisey, often interacted with the kind officer. She asked him to adopt her girl so that she would have a good life.
Whitten and his wife named the baby girl Harlow Maisey to honor the child's blood mother.
Please fill in your e-mail so we can share with you our top stories!