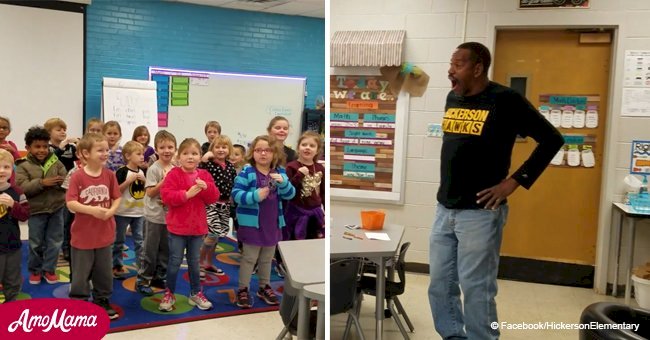 Deaf custodian, 60 is surprised by kindergartners' performance for his birthday

School children warmed James Anthony's heart when they gave him a special gift for his birthday.
Mr. James, as he is known at school has worked in the Coffee County school system for over twenty years and adored by everyone in the Tennessee elementary school where he is currently custodian.
When the kindergarten school children learned of his upcoming birthday, they wanted to do something special for Mr. James, but he is also hard of hearing.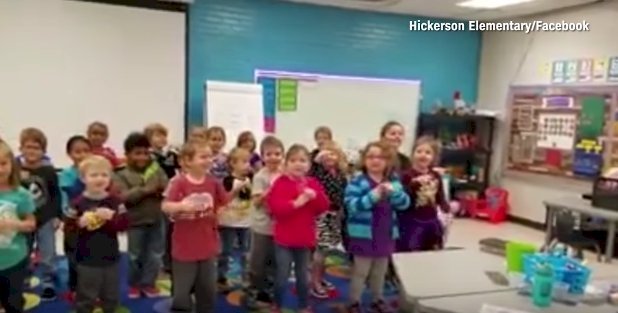 Source: Facebook/ Hickerson Elementary
So with the help of teachers Mrs. Amy Hershman, Mrs. Allyssa Hartsfield and teacher's aide Shelly Lucas and Ridner they learned how to use sign language to tell him 'Happy Birthday.'
Read more on our Twitter account @amomama_usa.
James Anthony has been part of the Hickerson Elementary school's family for 15 years and their surprise was bound to put a smile on his face.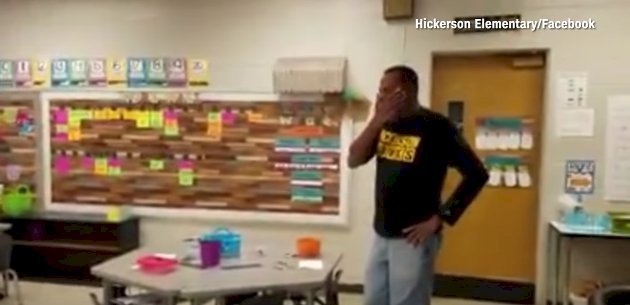 Source: Facebook/ Hickerson Elementary
They took a video of the happy occasion which they posted to the school's Facebook page, and Anthony is seen walking into the room where the school children and a few adults had been waiting to surprise him.
In the video, Mr. James's reaction is immediate as the group begins to sign and sing 'Happy Birthday' to him. The surprise and joy written all over his face as he exclaims and smiles, by the time the children had finished his smile turned into a huge grin off appreciation and joy.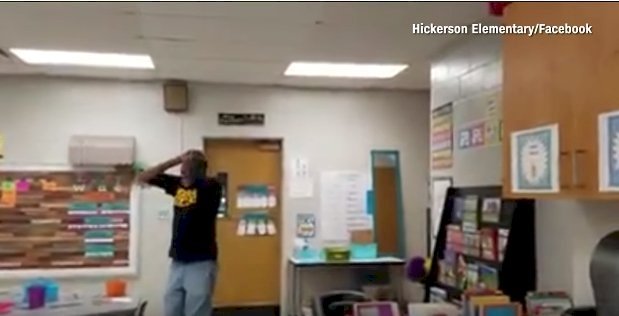 Source: Facebook/ Hickerson Elementary
When a group of young children come together and sing, adding their sincerity and warmth it can bring joy as it did for Mr. James, but it can also inspire, like a group of elementary school kids at Wayne Christian School in Goldsboro, North Carolina did for over a million people.
A video was posted by Paris Verme, the school cook shortly before Hurricane Florence hit the coast in mid-September 2018.
The young students came together and sang 'Eye of the Tiger' after praying for the safekeeping of everyone in Hurricane Florence's path. The video soon went viral and touched the hearts of people all over the world.
Those first years a child spends in daycare and pre-school are significant in certain areas of their development and provide educational value to their growing young minds, but it also provides parents with responsible care-takers for the child during business hours, so the parents can make a living and provide for their kids.
But as we know, life does not always go according to plan and when parents separate matters can get messy, with the children sometimes getting caught up in disputes amongst their parents.
However, according to the courts in a joint legal custodial relationship, the residential parent decides what is best for the child regarding matters like education and other day-to-day needs, which can help with more stability during a time that children find disruptive on many levels once parents decide to go their separate ways.
It is important to do what is best for the children and build on the sincere and giving nature of the youngsters as seen with the children from Wayne Christian School and in North Carolina and Hickerson Elementary School in Tullahoma.
Please fill in your e-mail so we can share with you our top stories!