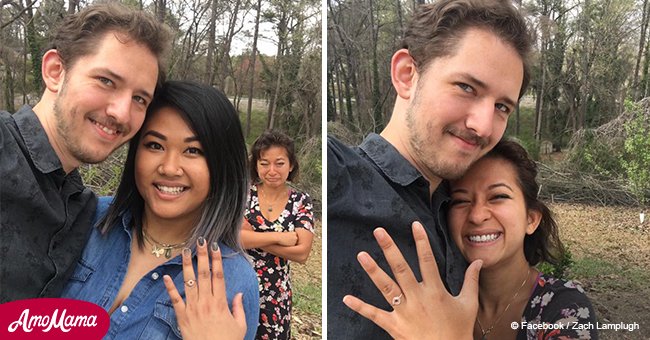 Guy announces his engagement in a photo with his fiancé, but then another girl appears in the pic

The reactions of his followers after a man posted the news of his engagement with his girlfriend, gave him the idea of trolling his contacts by posting one fake engagement picture after another to prove a point.
Announcing that one is going to get married to that special person is guaranteed to cause some positive reaction from your friends, relatives, and strangers in social media, and this guy proved that it doesn't matter how many times you do it.
Comedian Zach Lamplugh received more attention than what he expected when he shared a photo of his fiancée right after he popped the question (she said "yes") and he couldn't help it but turn the entire thing into a joke.
According to Daily Mail, the photo of himself and his girlfriend Somaly after the two became engaged, captioned "We finally made it official!" received more than 340 likes, and this was so surprising for him that it inspired it a social experiment.
Read more on our Twitter account @amomama_usa
'"So many of you liked the post that I went ahead and got engaged a second time! Thank you everyone for all of your encouragement!"
-Zach Lamplugh, Facebook, March, 27, 2017.
Even though Lamplugh's second "engagement" announcement was clearly a joke, as the funny image of him with a different woman while his girlfriend cries in the background suggest, likes kept coming his way.
The post gathered 200 likes quickly, and just 45 minutes later he added yet another picture to share the happy news of his third engagement in one day, and again he kept amassing likes.
Determined to keep doing the same thing until exhaustion, Lamplugh went on to post a total of nine engagement pictures with cynical captions, even though at the end everybody was aware that they had been trolled.
But by then, Lamplugh had made his point, and in the process, he became a sort of Internet celebrity, with several news outlets covering his social media prank.
"We just thought it was a funny way to make a joke online and I guess it worked out, it got a lot of attention," he explained.
While this joker's girlfriend Somaly was part of the prank, the girlfriend of a paramedic named Wyatt Roberts was the "victim" of his cruel idea of a creative proposal, and the entire thing was caught on video.
With the help of his fellow hospital employees, Roberts staged a fake injury scenario to make his girlfriend rush to see him without imagining that he was going to ask her to marry him.
But as soon as the frightened woman sees Roberts on a stretcher in an emergency room, she begins to cry, and the reaction she had when she finds out what is going on is hilarious.
Please fill in your e-mail so we can share with you our top stories!