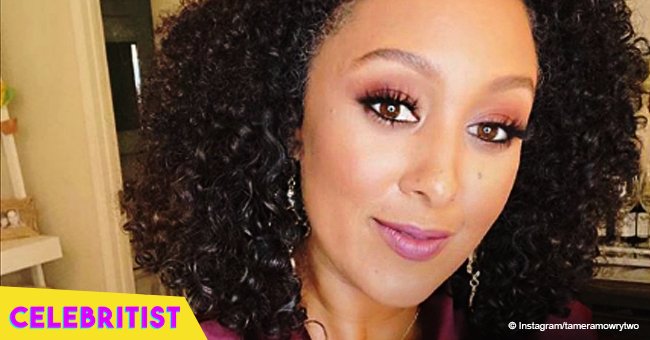 Tamera Mowry shares sweet photo of daughter with Uncle Tahj, showing their uncanny resemblance
Tamera Mowry, one of the co-hosts of "The Real," took to Instagram to share a photo of her daughter, Ariah, next to her uncle, Tahj Mowry, in the back seat of a car. Their resemblance is undeniable.
The post was a collage of two images. The one on top showed the three-year-old girl sitting on her child seat wearing a white shirt while smiling to the camera, copying what Tahj, wearing a grey shirt, a black sweater, and a black cap, was doing.
In the second picture, both of them were posing for the camera with their mouths and eyes wide open. Apart from the adorable aspect of the post, the fact that attracted more attention was the uncanny resemblance Tahj and Ariah share.
PEOPLE'S REACTION
For the caption, Tamera wrote: "These two, I swear," next to a heart eyes emoji. As soon as the actress and host uploaded that image, her followers took to the comment section to share their thoughts.
Most of them praised the relationship Tahj and Ariah have, and pointed out that the bond between uncle and niece seemed strong. Others pointed out that they looked just like twins.
CHOOSING HER NAME
Ariah Talea was born in 2015. She is the second daughter that Tamera and her husband, Adam Housley have had so far. In an interview the "Sister, Sister" actress had with People, she revealed why the couple chose those names for her daughter.
Tamera admitted that she and Adam stumble upon a store called "Araya." She immediately fell in love with the name, so she chose it for her daughter. The only problem with it was its spelling as she didn't want people to call her daughter a-RAY-ya, so she modified it to "Ariah."
DIGGING INTO THEIR MEANINGS
Talea, the girl's middle name, was easier as Tamera has always loved it. When they chose Ariah Talea, they learned the origin and meaning of both names. "Both Hebrew names, Ariah means Lion of God and Talea means one who resembles the morning dew of Heaven. We couldn't have found names with a better meaning if we had tried."
TAHJ AND ARIAH'S RELATIONSHIP
It is not the first time that Tahj and Ariah pose together, and it is certainly not going to be the last one as he was labeled as the girl's "whisperer," during a segment of "The Real."
Tamera revealed that Tahj was the only member of their family who had never got Ariah's side-eye and that she gets very happy when he is around. Tahj said that it is probably because they look too similar to each other, so she might think: "He looks like me. I gotta be cool with this guy [sic]."
Please fill in your e-mail so we can share with you our top stories!