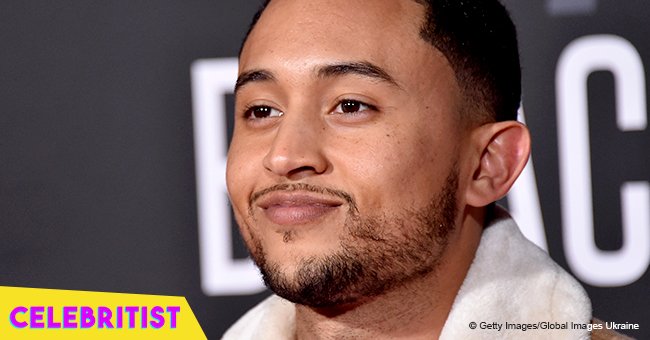 Tahj Mowry shares touching photo tenderly cuddling his newborn niece
The actor and younger brother of Tia and Tamera Mowry is known for having a close relationship with his niece and nephews, and he recently melted hearts by sharing a photo with the newest addition to the Mowry family.
Tahj Mowry has a lot of love for his sisters' kids, and the children love him back with as much fierceness. The 32-years-old handsome uncle of four doesn't have kids of his own yet, but he enjoys spending time with his family, and he has a special bond with Ariah, Tamera's daughter.
The "Baby Daddy" actor is known in the Mowry family as the "Ariah's Whisperer," as he and Tamera revealed on an episode of "The Real." According to the siblings, the two-years-old girl seems to have favoritism for Tahj, as he's the only one that is safe from her "side-eye."
Tamera explained the situation by saying:
"He's the only one in our family that Ariah doesn't give the side eye to. She gives the side eye to everyone. She can be in the worst mood. I remember she was teething on Aden's birthday party and she was not feeling it. The moment I tried to you know, take pictures of her and everything… The moment this one walks in [points at Tahj] She just starts smiling, her eyes get bright. She loves her uncle and so does Aden."
Tahj also revealed that even when doesn't' have time to visit the kids personally, they're always Facetiming. For him, the secret of his relationship with Ariah is that they look a lot like each other and she has noticed it, so the girl is gentle with him because of that.
A few months ago little Ariah was the only girl in the second generation of the Mowry siblings, but now Tia gave birth to her second baby, a baby girl whose name we still don't know.
The family couldn't be more excited about the arrival of the baby last month, Tamera stated on "The Real" how gorgeous the girl is, and Tahj shared an adorable picture with her on Instagram.
"The new princess," the actor wrote in the caption of the black and white shot that shows him holding the newborn baby while staring down at her wearing all white and seating in the middle of a bed.
The adorable baby is staring her uncle back, and if Tahj can work his charm on the girl as he has with Ariah, we're sure there'll be some competition between the cousins growing up.
According to Tia, her baby will be officially introduced through her YouTube channel, Tia's Quick Fix, on June 29. We can't wait to know the name of the new Mowry-Hardrict baby girl finally.
Please fill in your e-mail so we can share with you our top stories!