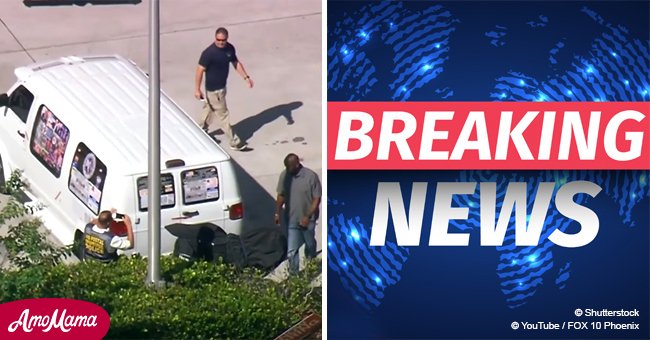 Suspected mail bomber arrested in connection with explosive packages sent to Obama and Clinton
A 56-year-old suspect was arrested in Florida earlier today, believed to be connected to the spate of bomb threats that plagued America this week.
Commissioner O'Neill from the New York Police Department confirmed on Twitter that "workers at a postal facility in Manhattan" discovered a suspicious package.
He added: "[The package] closely resembles other sent across the nation this week — incl. [CNN] and [TriBeCa Productions] in [New York.]
Read more on our Twitter account, @amomama_usa. Video clips of the arrest and the package can be viewed below.
The man was taken into custody in South Florida after a suspicious vehicle was found at State Road 7 and SW 8th Street.
Authorities are confident that man is connected to the bomb threats as he is known to law enforcement and "has a history of making terroristic threats to judges."
The matter is being investigated and more information will be released in due course.
Two more packages were intercepted, addressed to Senator Cory Booker and James Clapper, the former Director of National Intelligence.
President Trump insinuated on Twitter that bomb threats were from the left and is slowing the voting process down. He said:
"Republicans are doing so well in early voting, and at the polls, and now this 'Bomb' stuff happens and the momentum greatly slows - news not talking politics. Very unfortunate, what is going on. Republicans, go out and vote!"
Several netizens responded with actor and producer Corey Reynolds pointing out that it was "possibly the greatest attempt at political mass murder, but please go on about how it's affecting momentum."
Others pointed out that Trump is the reason for this as his rhetoric since taking office has been violent, and that he inspires his followers to be violent.
Steve Oberholtzer remarked that the bombs were sent "to people you continually attack at your 'rallies.'"
Actor Jim Carrey also spoke out yesterday and shared an artwork that showed the president with a bomb in his mouth.
He wrote:
"Today they tried to murder two Presidents as well as public servants and journalists. Make no mistake, these terrorists were encouraged and emboldened by the hate speech of Donald Trump. If you can't see the clear menace of this man's influence by now then you are a part of it."
Please fill in your e-mail so we can share with you our top stories!