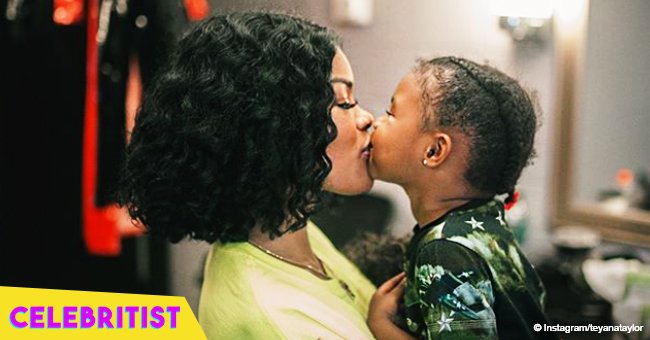 Teyana Taylor's daughter Junie snatches hearts, showing off her new hairdo in video

Teyana Taylor, the actress and singer best known for the show "Teyana and Iman," took to Instagram to share a video of her daughter, Junie, rocking a new hairdo.
In the short clip, the toddler appeared wearing a plaid sweater while somebody was holding her. Junie's hair was tightly braided to one side, what made her look beautiful.
For the caption, Teyana revealed that the toddler was upset because she thought she would miss coming on stage with her as she was getting her hair braided. Thankfully, Junie made it on time.
PEOPLE'S REACTION
As soon as the proud mother uploaded that video, her followers took to the comment section to share their thoughts. Most of them pointed out that Junie was very adorable and that she "stole the soul" from the world.
Others seemed surprised about Teyana's caption for the fact that the toddler got onstage. However, it was not the first time that she invited her daughter to join her during one of her concerts.
GETTING ON STAGE
In a video that Teyana uploaded to Instagram a few weeks before, the singer appeared in the middle of the stage when Junie walked onto the stage next to her mother. Once there, she started waving hello at the crowd, proving that she is not shy at all.
Teyana put the mic close to the girl, and she said something. The audience erupted in cheers, but the girl had something else prepared. When Teyana put the mic in front of her again, Junie surprised everyone.
SURPRISING EVERYBODY
Both of them started singing, but then the girl held the mic, walked away from Teyana and closer to the audience, and kept singing alone. Junie was even waving at the camera while Teyana "passed out" in disbelief behind her. A member of the audience stood up and hi-fived the toddler as a way to praise her for her fearless action.
THE GIRL'S BIRTH
Junie was born on December 2015. After going into early labor, Iman Shumpert, the NBA player who married Teyana in 2016, delivered the baby with his bare hands at the couple's home.
At the moment, Teyana is focused on her music career as she released her second album titled "K.T.S.E." in June this year. Apart from that, she has worked in other different projects, including "The After Party," "Hit the Floor," and Honey: Rise Up and Dance."
Please fill in your e-mail so we can share with you our top stories!