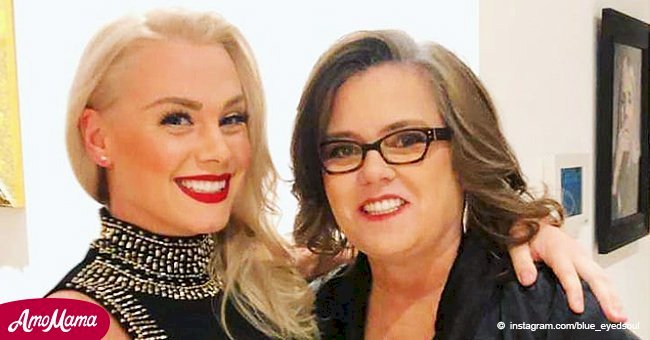 Here's why Rosie O'Donnell calls her relationship with fiancee 'a little tricky'

Elizabeth Rooney and Rosie O'Donnell announced their engagement after dating for a year, but their fans are a bit confused.
The couple went public with their relationship in November 2017, and with Rooney living in Boston and O'Donnell in New York, it has mostly been long distance.
However, O'Donnell smiled from ear to ear when she confirmed the news of their engagement at the 15th-anniversary celebration of 'Rosie's Theater Kids.'
O'Donnell describes their romance as being 'a little tricky,' as their 23 year age gap often confuses fans, thinking Rooney to be O'Donnell's 20-year-old daughter Chelsea, and says:
"A lot of people say, 'Oh, my god -- Chelsea looks so great!' I'm like, 'That's not Chelsea. That's my soon-to-be spouse.'"
Read more on our Twitter account @amomama_usa.
Describing her 33-year-old fiancee as a 'wonderful woman,' she also adds that they very much equal and she loves to brag about Rooney being an undefeated boxer while still in service.
She proudly talks about how Rooney is very much her own person, loving what she does and just being an unbelievable person in general.
Jokingly O'Donnell said:
"I keep telling her I'm too old for her, but she doesn't seem to care."
She smiles broadly as she relays Rooney's reply:
"She's like, 'I was in the Army! I put my life on the line every day. You think I don't know who I want to date?' I'm like, 'Alright, I guess that's true.' She has a lot of good points."
The couple is soaking up their engagement bliss and said they have not set a date for the wedding yet.
Rosie O'Donnell had two previously failed marriages. She wed Kelli Carpenter in 2004, with whom she has four children, Parker,23, Blake, 18, Vivienne, 15, and 21-year-old previously estranged daughter Chelsea.
Their union got annulled by California's Supreme Court due to gay marriage restrictions at the time and ceased living together three years later.
In 2012 O'Donnell got married to Michelle Rounds, but they got separated in 2014 with their final split in 2016. They share a daughter, Dakota, 5, however, Rounds died in 2017 due to committing suicide after taking a mixture of drug according to the authorities.
Earlier this year in June, O'Donnell announced that she reconnected with 21-year-old Chelsea after finding out that she got pregnant. Chelsea made the announcement of her and boyfriend Jacob Bourassa expecting their first child and due in January 2019.
In 2015 their turbulent relationship made news when O'Donnell reported Chelsea missing after which authorities found her at her former boyfriend's house. O'Donnell was furious about her behavior and Chelsea's new tattoo.
However, her reconnection with her daughter and the news of her engagement has Rosie O'Donnell elated at the prospect of being a grandmother and starting her new life with Elizabeth Rooney.
Please fill in your e-mail so we can share with you our top stories!