Bizarre moment President Trump left umbrella helplessly fluttering in the wind goes viral
On Saturday, President Donald Trump was in Indianapolis for a rally where he was showered with rain. Someone gave him an umbrella to protect himself but things turned bizarre.
On the way back into Air Force One, the president appeared to face a challenge which he quickly addressed. Instead of closing his umbrella before going inside the plane, he did something strange.
President Donald Trump used an umbrella to shield himself from the rain in Indianapolis as he returned to Washington D.C. after a rally. However, when he got back on Air Force One, he was faced with a decision on what to with the open umbrella.
Video footage, that has gone viral, showed the president standing by the entrance of the plane momentarily contemplating what to do with the umbrella. Strange enough, instead of just closing it he appeared to forget how to do just that.
You can't stand under his umbrella…but you can stand under hers: ☔https://t.co/WwYpOxRQi7

— BET (@BET) October 17, 2018
For more on this story go to our Twitter account @amomama_usa. The footage showed him abandoning the open umbrella just outside the door while he went in.
The umbrella sat fluttering in the wind for a few minutes before someone else came up the stairs. The unknown person didn't close the umbrella too and instead, he chose to sidestep it to go aboard.
Eventually, a Secret Service agent followed and was seen folding and discarding the umbrella inside the plane. It's believed that the president was just so used to having things done on his behalf that he expected someone else to close the umbrella.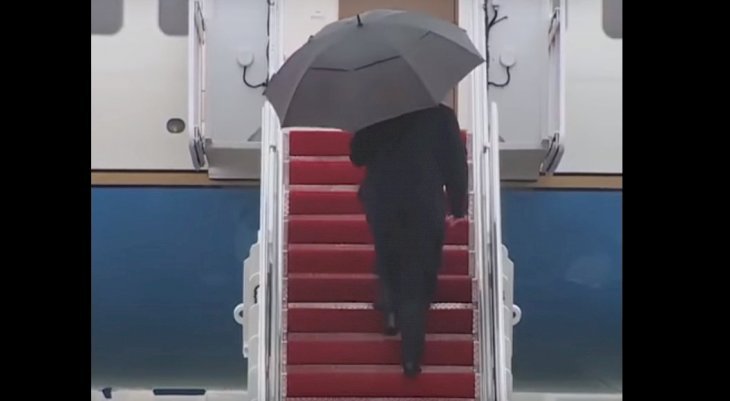 People on social media noticed the incident and the video has since gone viral. Earlier in the day, the president complained that his hair had gotten wet while taking questions on the Pittsburgh synagogue massacre.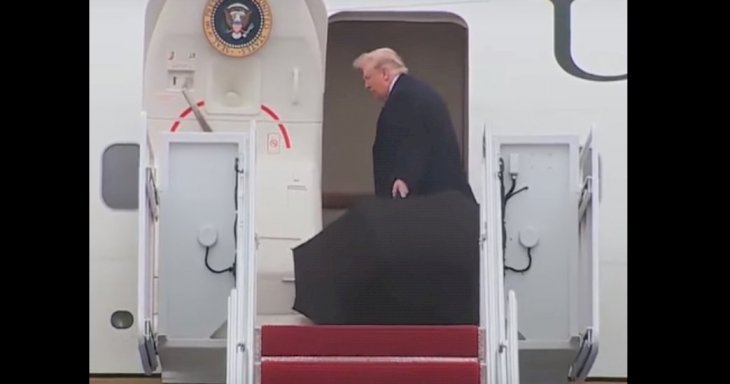 Trump went ahead with a political rally hours after 11 American citizens were gunned down at the Tree of Life Synagogue in Squirrel Hill, Pittsburgh. He joked about how the rain had "ruined" his hair.
His recent episode with the umbrella wasn't the first time that Trump had failed to follow normal etiquette. Earlier this month, a video showed him and First Lady Melania Trump preparing to leave to survey disaster zones in the wake of Hurricane Michael.
As they walked toward the plane, the president took a detour to some television cameras. There he spoke to the press about his and his wife's recent television appearance.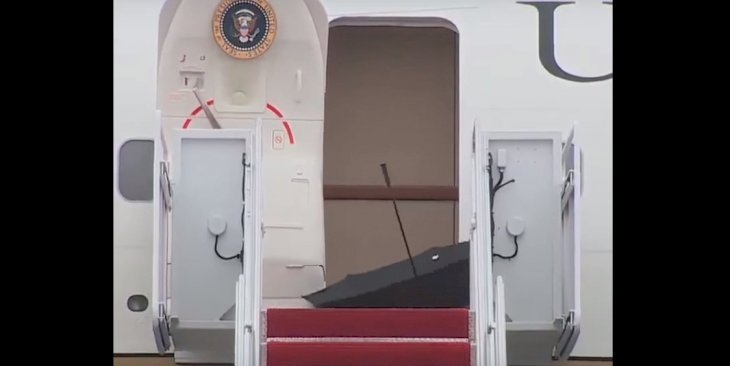 He appeared to have forgotten about his wife as he bragged to the cameras while keeping an umbrella to himself. After the brief diversion, the couple walked to board the helicopter as Melania tried to hold her husband's hand.
She failed to do so because he was holding a variation on the MAGA hat that read "USA," causing her to settle for interlocking arms.