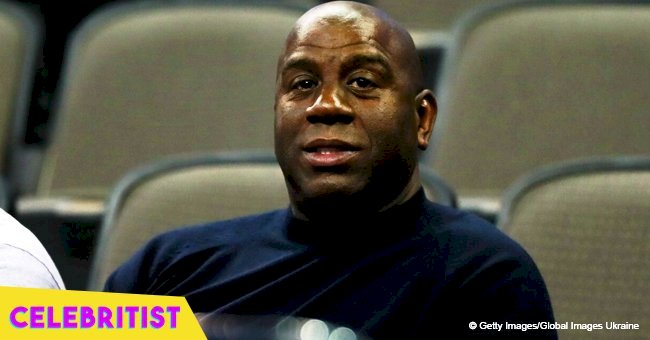 Magic Johnson's son, EJ, slays as 'Kitana' with long hair, wearing skimpy outfit in recent photo
Son of Magic Johnson, EJ Johnson stuns fans with a stunning Haloween costume in an Instagram Post below.
The openly gay 26-year-old, EJ is the son of basketball icon, Magic Johnson. However, he has made a name for himself away from his father's shadow through the reality TV show, Rich Kids of Beverly Hills.
The fashion-forward member of the Johnson family is no stranger to using his clothing to make a statement. Lately, he has been embracing his figure more and more in the past few months.
EJ'S WEIGHTLOSS JOURNEY:
Some fans have speculated that perhaps he is transitioning. However, most chalk it up to the impressive weight loss he went through in 2016. He dropped 180 pounds after getting a gastric sleeve.
To maintain his new body, EJ sticks to a routine of pilates and avoiding the diet fads that pop up. His advice is to find what works for you as an individual and sticking to it.
FASHION STATEMENTS:
Since his weight loss, EJ chooses to express his thoughts through fashion. He uses his clothing to portray his freedom of expression and break through social expectations.
The new confidence in his outfit choices not only show off his new body but also allows him to blur the lines of traditional gender norms of the fashion industries. Even his recent Halloween outfit played into his message.
Dressed in a revealing skin-tight dress with long hair and thigh high boots, EJ stunned in his almost perfect version of Kitana from the video game, Mortal Combat. The dress hugged his impressive curves and revealed just the right amount of skin to be sexy.
The outfit left fans in awe. Many took to Instagram to praise the young star.
"I'm here for it @ejjohnson_" ~ @littleshone54
"Yasss you better work @ejjohnson" ~ @nenepoohls1
RELATIONSHIP WITH HIS FATHER:
He has revealed that finding love is next on his agenda. However, he is quick to add dating is sometimes hard because many people want to use him to get close to his father.
Regardless of the strains, his father's fame may put on his romantic relationships, EJ remains close to his father and family. He has said that his father always encourages them to follow their destiny and explore their interests.
ROAD TO ACCEPTING HIS CHOICES
His father found it difficult at first to accept when EJ first came out as gay but has since been unapologetically supportive. Magic Johnson has received significant backlash for supporting EJ's choices.
He was berated when he posted a recent family picture by some fans who blamed him for "letting" EJ "become" gay. However, Magic Johnson has decided to stand by his son and continued to support him through all his changes.
His parents continue to stand behind him. Regardless of his risque fashion choices which often raise more than a few eyebrows.
You gotta support your child ~ Magic Johnson to Ellen DeGeneres
EJ is currently an MTV host. He continues to live his best life despite the backlash and ridicule it sometimes garners.
Please fill in your e-mail so we can share with you our top stories!