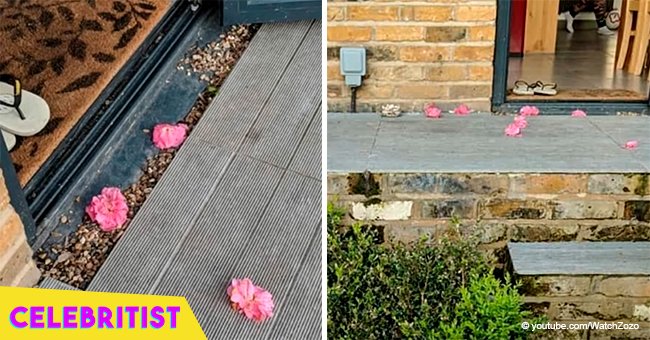 Woman finds flowers on her porch every day & finally catches her secret admirer in the act
Moving into a new place can be quite stressful for many reasons, and among them is not knowing if you'd like the neighbors and vice-versa. But for Rosie, that wasn't the case. A few weeks after moving in, she noticed flowers on her porch and had no idea how they got there, until one day she caught her secret admirer.
Rosie, from the U.K, moved into a street with terraced houses that back onto another road of terraced houses with a kind of garden corridor between, as she told Love Meow. After a few weeks living in her new place, she started to notice pink flowers on her porch.
At first, Rosie thought it was the wind dragging the flowers to her doorstep, but when the flowers started to blanket her floor, she knew there had to be someone leaving the pretty blossoms as gifts. And one day, while she was cooking, she finally caught the responsible on the act.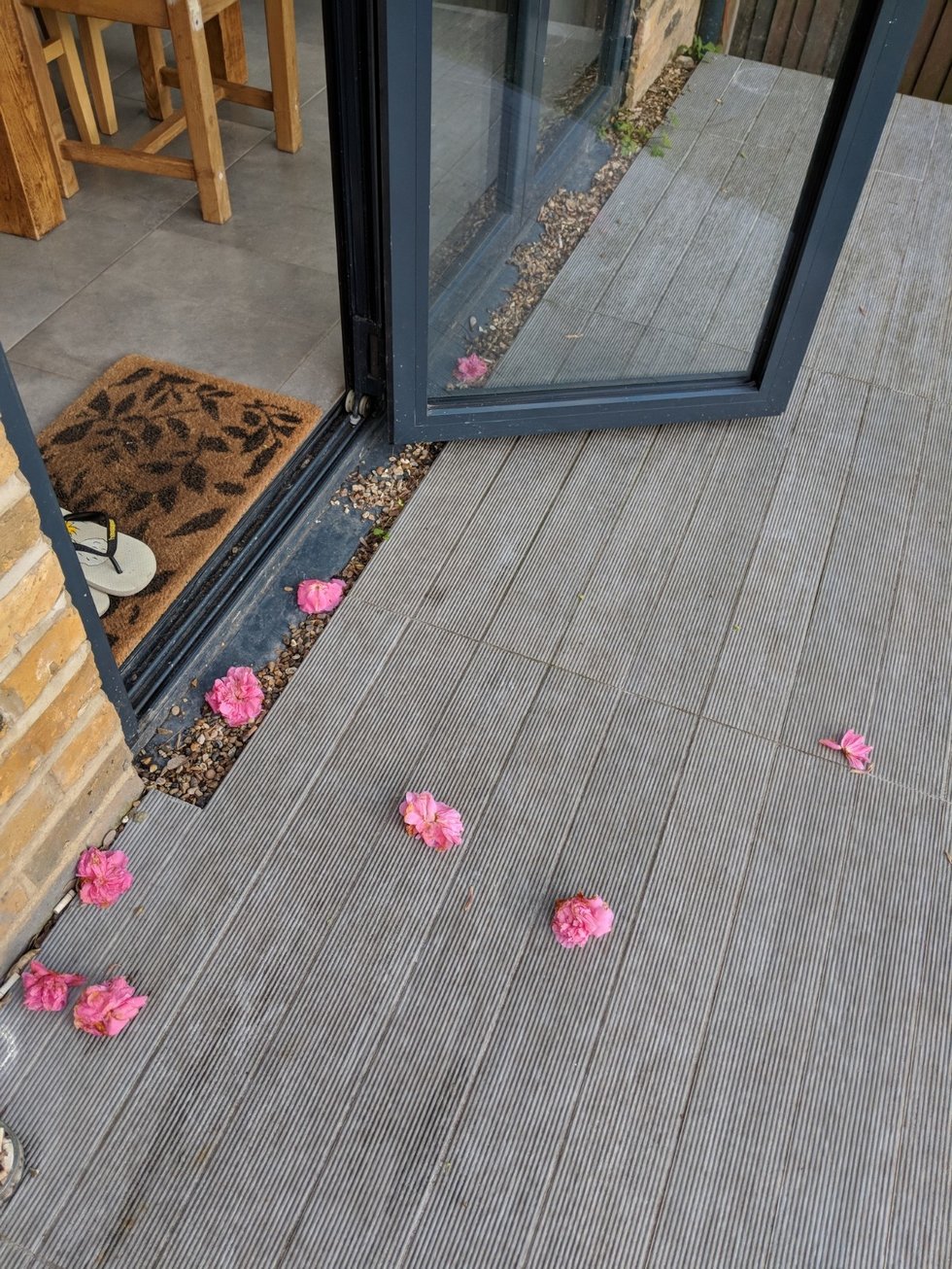 Source: Love Meow
DISCOVERING THE SECRET ADMIRER
She rushed to grab the camera and film her secret admired as it approached the porch holding the flower. It was the one, and only Willow, a friendly cat that lives in a house nearby and that had been visiting Rosie since she moved in.
The adorable kitten can be seen on a video dropping a pink flower on Rosie's porch and meowing, while she waits for the woman to open her glass door so she could greet her properly.
Rosie revealed that she met Willow the first day she moved in when she noticed the feline sleeping in the hallway as if she owned the place. And she does, in part. "Willow rules over about six of the gardens, and I'm pretty sure she gets fed by everyone because she's very difficult to say no to," she said.
Willow takes advantage of her stunning looking self and demands the neighbors to open their doors for her, meowing incessantly. She also loves to be pet, and some people even leave cardboard boxes for her to climb in and play, and cat food in case she's feeling hungry.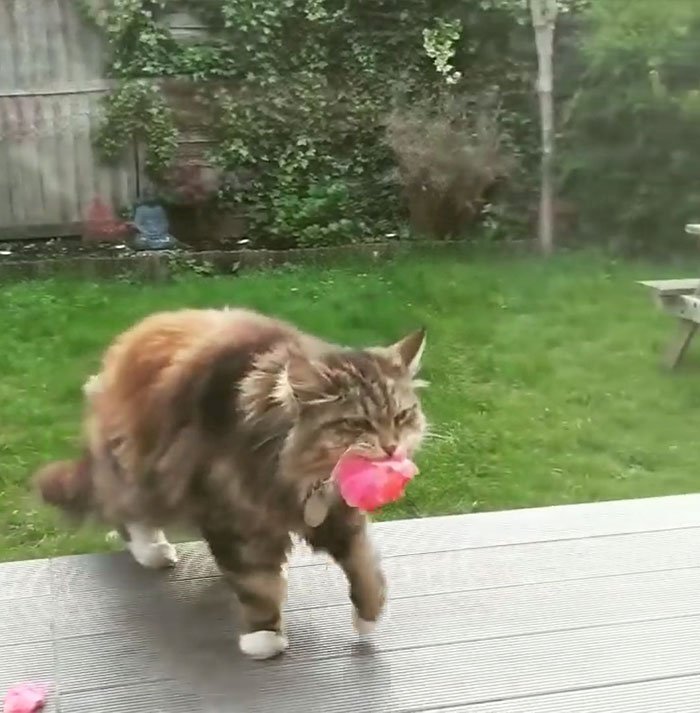 Source: YouTube/Love Meow
Since early spring, Rosie had noticed the strewn flowers all over her porch, and when she commented on the strange incident, one of her neighbors recalled they had seen Willow with a flower on her mouth.
"For a while, It was just a legend that it was her until yesterday when I was cooking and spotted her jumping down with a pink flower in her mouth," Rosie told Love Meow.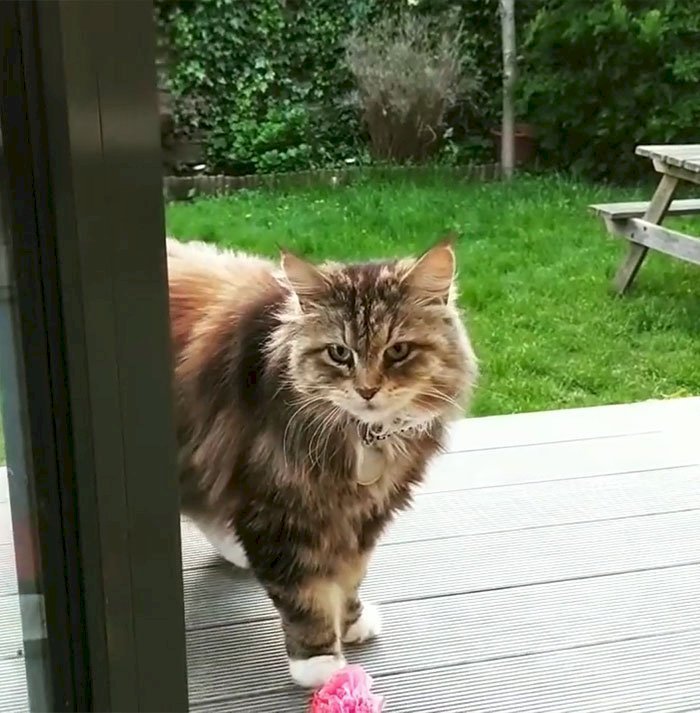 Source: YouTube/Love Meow
"I was so excited that I went to film it because she's so cute and I'd never seen a cat ever bring back anything but dead animals before. She clearly likes us because she steals flowers from (her owners) and leaves them on our deck. It was at least ten flowers before we realized it was her."
Willow keeps visiting Rosie and even gets to sleep at her couch and hog all the blankets for her daily cat nap. But she's so adorable that all the neighbors are as whipped as Rosie for the friendly feline.
Willow surely lives a good life.
USING LEAFS AS CURRENCY
And just like this four-legged pet uses flowers to show her affection for her human friends, there's a dog on the other side of the world that uses leaves for his benefit, creating his currency in the process.
Negro is a guardian dog at the Diversified Technical Education Institute of Monterrey Casanare, in Colombia. He makes sure to watch over the students and the school's personnel, and in return, he gets food, water, a roof and lots of love and attention.
However, it seems like being surrounded by kids who are continually eating snacks away drove Negro to find his way to get snacks too, since the school doesn't provide that for him.
After watching how kids approach the counter of the little store on campus to treat him to cookies and buy other stuff for themselves, the smart black dog learned about commerce.
"He would go to the store and watch the children give money and receive something in exchange," teacher Angela Garcia Bernal told The Dodo. "Then one day, spontaneous, he appeared with a leaf in his mouth, wagging his tail and letting it be known that he wanted a cookie."
The leaf, of course, was accepted by the store's owner, and now every time he wants a cookie, he goes to the counter, drops a leaf and waits his turn to receive his delicious treat. Garcia Bernal assured that the store only gives him dog-friendly treats, and they have also limited his purchases to a couple a day.
"When you first see it, you almost want to cry," Bernal said. "He's found a way to make himself understood. He's very intelligent."
Please fill in your e-mail so we can share with you our top stories!