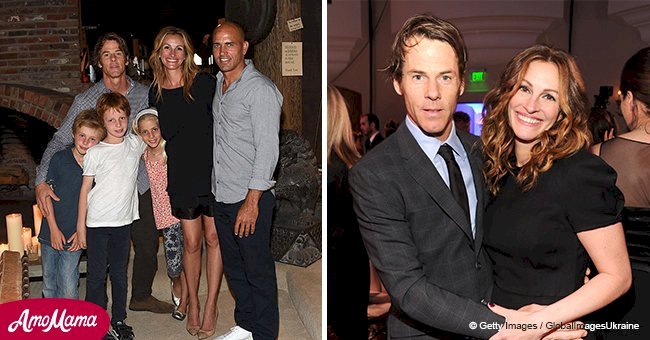 Julia Roberts' little daughter is all grown up and looks so similar to her famous mom
Julia Roberts has one daughter and she looks just like her mother when she was her age.
Forever America's sweetheart, Roberts has nipped Oscar awards and several top roles throughout the last three decades.
But the 51-year-old has been staying out of the spotlight when it comes to her personal life. She only recently got started with Instagram.
Follow us on Twitter for more @amomama.
Before that, fans would only see the actress on a red carpet or some other public event.
Roberts spoke with InStyle about the whole social media practice. She said:
"What's a good analogy? It's like people talking about a TV show: I can be perfectly aware of the TV show and the story, but it doesn't mean I watch it."
She continued:
"I have other friends who watch it, and they tell me about it. I mean we were talking about Instagram. Everyone has Instagram on their phone. [if I had it] I would be looking at it all the time."
Instead of constantly being on her phone, Roberts prefers to indulge in the simple things in life. Namely, her family. She has three children with husband Daniel Moder.
The cinematographer met Roberts on the set of "The Mexican." They got married in 2002. In 2004, Roberts gave birth to daughter Hazen and son Phinnaeus. In 2007, they had Henry.
As to why we haven't been seeing much of her kids, Roberts said:
"We try to protect our kids. We just want to have our family life and not have that intruded upon."
But photos of Roberts' daughter, now 13, have surfaced. And the similarities between mother and daughter are clear.
The teenager may or may not know what her mother does for a living because Roberts made it a point not to tell them, at least up till 2014.
With her emerging good looks, the young teen has yet to show interest in the entertainment industry. Rather, she and her siblings have expressed a love of music.
Meanwhile, Roberts is becoming a bit more active on Instagram where she has 2.5 million followers. But none of them are of her children.
And only a few are of her husband. This laying low of the actress' part may have led to divorce rumors from the media at the end of summer.
Many claimed the long-time couple was struggling with their marriage. When Roberts posted a picture of the two, people believed it was prompted by such rumors.
Nonetheless, the two seem to be doing well besides the fact that they're staying out of the spotlight.
Please fill in your e-mail so we can share with you our top stories!