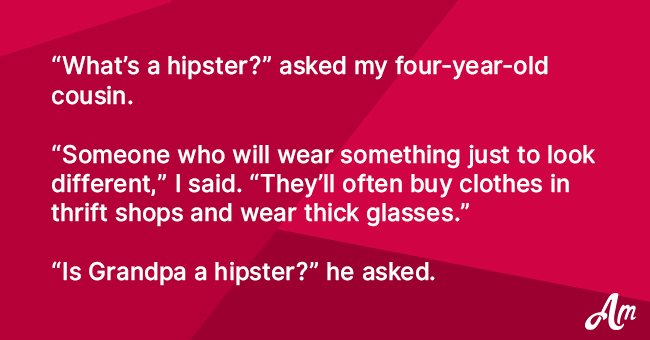 5 jokes about senior people that'll make you laugh
Being an old person means that one has lived a long life full of teachings and experiences one must be proud of and happy to share with the young and inexperienced. But it also brings about many hilarious situations.
Here we selected five of the funniest jokes starring senior individuals for you to enjoy a couple of much-necessary laughs to brighten your day. You can also steal the show in any reunion of family or friends with these jewels!
Read more on our Twitter account @amomama_usa
WHO CAN BEAT THAT LOGIC?
"What's a hipster?" asked my four-year-old cousin. "Someone who will wear something just to look different," I said.
"They'll often buy clothes in thrift shops and wear thick glasses."
"Is Grandpa a hipster?" he asked.
WORKS EVERY TIME
An old guy walks into a bar and the bartender asks for ID. "You've got to be kidding," he said. "I'm almost 60 years old." The bartender apologized but said he had to see the license.
The guy showed his ID, then paid and told the bartender to keep the change. "The tip's for carding me," he said. The bartender put the change in the tip cup. "Thanks," he said. "Works every time."
IN THE END, WE ALL LOOK THE SAME
As the hostess at the casino buffet showed me to my table, I asked her to keep an eye out for my husband, who would be joining me momentarily. I started to describe him: "He has gray hair, wears glasses, has a potbelly..."
She stopped me there. "Honey," she said, "today is senior day. They all look like that."
FOOLISH QUESTIONS
"Poor Old fool," thought the well-dressed gentleman as he watched an old man fish in a puddle outside a pub. So he invited the old man inside for a drink.
As they sipped their whiskeys, the gentleman thought he'd humor the old man and asked, "So how many have you caught today?" The old man replied, "You're the eighth."
ANYTHING YOU ASK FOR
In the hardware store, a clerk asked, "Can I help you find anything?"
"How about my misspent youth," joked my husband.
The clerk shot back, "We keep that in the back, between world peace and winning lottery tickets."
NOT A WORRY IN THIS LIFE
An elderly man visits the doctor for a checkup. "Mr. Smith, you're in great shape," says the doctor afterward. "How do you do it?"
"Well," says Mr. Smith, "I don't drink, I don't smoke, and the good Lord looks out for me. For weeks now, every time I go to the bathroom in the middle of the night, he turns the light on for me."
Concerned, the doctor finds Mrs. Smith in the waiting room and tells her what her husband said.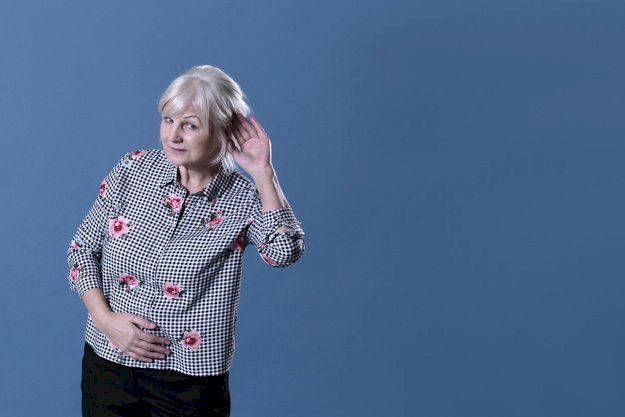 Source: Freepik
"I don't think that's anything to worry about," she says. "And on the bright side, it does explain who's been peeing in the fridge."
GRANDMA JOKES
If you enjoyed these jokes related to the elderly, as we are sure you did, and you can't get enough of funny stories featuring senior citizens, you can't miss these Top 5 jokes about what can happen in any grandma's life.
Please fill in your e-mail so we can share with you our top stories!