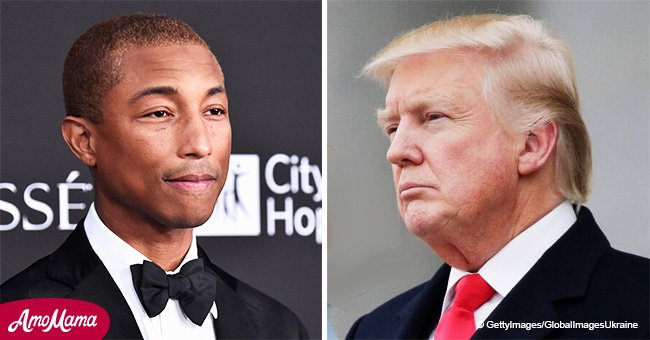 Pharrell Williams blasts Donald Trump and disallows him from playing 'Happy' at rallies
On Monday, President Donald Trump received a cease and desist letter. The letter was from Pharrell Williams' attorney Howard King.
It barred the president from playing the singer's song, "Happy." Trump recently had the song playing on Saturday at a rally.
Musician Pharrell Williams, 45, sent a cease-and-desist letter through his lawyer, Howard King, to President Donald Trump after he played the 2014 hit "Happy" at a political event in Indianapolis.
The song was played at a rally just hours after 11 people were gunned down in at the Tree of Life synagogue in Pittsburgh.
For more on this story go to our Twitter account @amomama_usa. In the letter, Williams stated:
"On the day of the mass murder of 11 human beings at the hands of a deranged 'nationalist,' you played his song 'Happy' to a crowd at a political event in Indiana."
The letter further noted:
"There was nothing 'happy' about the tragedy inflicted upon our country on Saturday and no permission was granted for your use of this song for this purpose."
The attorney also noted that the use of the song without consent constituted copyright and trademark infringement by the president. The letter said:
"Pharrell has not, and will not, grant you permission to publicly perform or otherwise broadcast or disseminate any of his music."
This wasn't the first time that Trump has been barred from using artist's songs at his political events. In August, Aerosmith frontman Steven Tyler sent him a cease-and-desist letter after the president played the band's hit song "Livin' on the Edge."
The song was played at a rally in Charleston, West Virginia. At the time, Tyler's legal team wrote:
"Mr. Trump is creating the false impression that our client has given his consent for the use of his music, and even that he endorses the presidency of Mr. Trump."
Other artists who've asked the president to stop playing their music are R.E.M., Prince's estate, Queen, The Rolling Stones, The O'Jays, Adele, Neil Young, and Tom Petty.
Williams is a Virginia beach-born artist who's juggled a number of roles. He is one half of production duo The Neptunes, one third of the band N*E*R*D, and a solo artist.
In his music, he mixes rap, rock, and R&B to name a few genres.
Please fill in your e-mail so we can share with you our top stories!