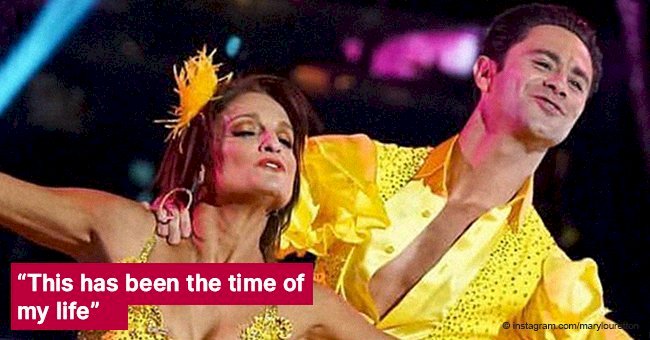 Mary Lou Retton leaves 'DWTS' after divorce bombshell
Mary Lou Retton had a marriage run of 27 years before her divorce. She also had a six-week run on "Dancing With The Stars." Both came to a solemn end this year.
Retton described her divorce as "something that had really needed to happen for a long time." It left her feeling alone, but the show changed all of that.
Retton, 50, told one of the show's co-hosts, Tom Bergeron:
"I hadn't challenged myself in decades and I challenged myself and I'm off to a fresh start."
Bergeron and Erin Andrews, another co-host, warned fans of Retton and her competitor Alexis Ren - they were at risk of being eliminated. Ultimately, they sent Retton home during the live Halloween episode.
It had been six weeks of dancing with her professional dance partner, Sasha Farber. Retton described the experience as being "the time of [her] life."
The former Olympic gymnast was the first female American to win an Olympic gold medal in the 1984 summer Olympics. She retired soon after in 1986.
In 1990, Retton married assistant head football coach Shannon Kelley. The two went on to have four girls: Shayla, 23, McKenna, 21, Skyla, 18, and Emma, 16.
"I went through a divorce. People don't know that. It's the first time I've actually said it publicly. After 27 years."
In February of 2018, the pair finalized their divorce. Retton spoke of it for the first time on the reality dancing competition show.
The former NBC commentator explained: "We still love one another, but we weren't great together anymore."
The show significantly helped Retton get over the hump:
"When I walked in here, I knew I was starting over, and I was scared. But now, I know I'm starting over, but I'm excited. There's that mental switch."
Retton revealed that she and Kelly parted amicably, but she "felt very alone afterward. Thankfully, her daughters helped her, too.
"Thank God for my four girls. They loved me unconditionally."
Retton now works as a motivational speaker and corporate spokesperson. Her daughters have followed in her footsteps and are successful athletes.
In the fourth week, the life-changing show saw a shocking exit by singer Tinashe and dance professional Brandon Armstrong.
The pair received their highest score from the judges. Nonetheless, the vote of the public was not in their favor.
Despite Tinashe's determination to avoid the same jeopardy she had faced the previous week, she was now leaving.
Judges Bergeron acknowledged a claim Brandon had previously made:
"Brandon, you actually said it in the package. Sometimes the best dancers go."
And sometimes the best personalities leave as well. We hope that Retton and Tinashe continue improving themselves after the hard work they've done on the show.
Please fill in your e-mail so we can share with you our top stories!