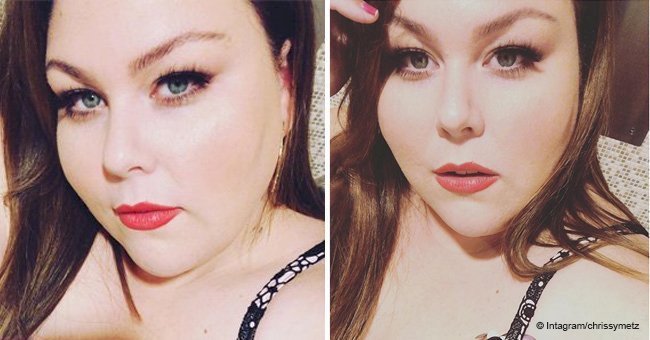 'This Is Us' Star Chrissy Metz opens up about her weight-loss journey
The Emmy-nominated actress Chrissy Metz reveals how her weight issues came from childhood and how she feels about herself now.
Born in Homestead, Florida Chrissy Metz has finally come to the point where she feels entitled to live the life she wants. She is not only the face behind the character Kate Pearson on 'This Is Us' but feels deeply connected to the character from the first time reading the script, which shows creator Dan Fogelman based on his own sister's struggle with weight.
Although the 38-year-old actress has never shied away from expressing herself, she rarely felt the freedom to live her life to the full and to do what she wanted. Early years got spent in Japan with her mother, older siblings, and father, who worked on the Yokosuka Navy base.
After the divorce of her parents, Chrissy's mom moved the family back to Gainesville, Florida which resulted in years of financial struggle and a stepfather that didn't approve of her weight gain.
Recalling the role food had in her life at a young age she said:
"There were nights my mom wouldn't eat dinner. I knew she was giving up food to make sure we could eat, but when you're 9 or 10 years old, you can't help. It was devastating. In retrospect, I think that's why food equals love in my family."
"We had lived with a lack of food for so long that when it was there, I felt like I had to eat it before it disappeared. Food was my only happiness."
By age 11 she went to Weight Watchers already struggling with her weight. While chaperoning her younger sister to a modeling casting call at age 20, she caught the attention of a talent scout and spent the next nine years working as a talent agent after moving to Los Angeles in 2005.
Chrissy got a small role in 'American Horror Story: Freak Show' in 2014 but was in serious financial trouble in 2015 and reached a low point and recalls:
"I just remember holding on to something I couldn't really see but I knew was there deep, deep down. And then it sort of all just happened."
She landed the role of Kate Pearson in the series 'This Is Us' which has earned her both an Emmy and Golden Globe nominations, with the role described as one of the more complex characters on prime-time television.
The character portrays the real-life issues that overweight people have and generates empathy for them as people.
At the start of the first season, Chrissy signed a contract containing a clause requiring her to lose weight along with her character, Kate Pearson and commented:
"That was a win-win for me. Because it's one thing to try to do it on your own. But as human beings, it's an ego thing: We're more likely to do something for someone else."
She clarified that there was no deadline or goal weight she had to achieve but in turn had a general long-term plan they all spoke about. The successful show is now in its third season and she feels passionate about her role as Kate Pearson and the show in general.
Chrissy also opened up about her successful singing audition on 'American Idol' in 2007 and said:
"It was actually a really great experience. I'm glad that I showed up for myself and sat in a stadium for eight hours… I was like, 'I'm committed. I'm gonna see it through.'"
She performed the song 'Heavy' from 'Dreamgirls' but the judges were unimpressed and producer Nigel Lythgoe cut her off soon after she started to sing and asked her why she stomped her foot, while Simon Cowell didn't like the sound of her voice.
However, she felt like the audition did not work out for a reason and added:
"If it wasn't the right path, that's cool — I would have never had 'This Is Us.' It is all written in the stars — I believe. It happened exactly the way that it was supposed to."
She broke up with her boyfriend of two years, Josh Stancil, earlier this year, whom she met on set at 'This Is Us.' He worked as camera grip but have since moved onto another show, and the two are still friends.
Explaining that she could not just 'dump them off' when a relationship ends, she prefers remaining friends with former partners as one doesn't just stop caring for someone.
Loving the stage she has reached in her life Chrissy also stars in the lead role of the upcoming movie 'Breakthrough' which will be released next April. It's a true story of a mother who used prayer to resuscitate her son.
Please fill in your e-mail so we can share with you our top stories!