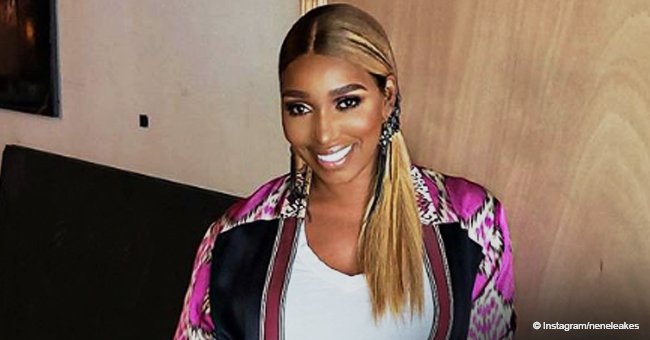 NeNe Leakes shares rare photo of pretty granddaughter rocking blue princess dress & tiara
NeNe Leakes is not only a reality star and successful businesswoman, but she's also the proud "glam-ma" of an adorable 6-year-old girl. Little Bri'asia stunned fans all over social media after Leakes shared a series of pics with the girl.
The "Real Housewives of Atlanta" star has stated in several occasions that family is everything in her life, and even though she keeps her sons out of the spotlight, for the most part, it seems like NeNe is ready to share a bit more about her adorable granddaughter.
A GLAM FAMILY BRUNCH
In a series of pics posted to her Instagram, NeNe is seen having a delicious brunch with waffles and bacon alongside her 6-year-old granddaughter. Bri'asia looks gorgeous rocking a sequined blue princess dress and a silver tiara with her hair tied up in a high knot and some braids falling down her face.
Leakes, on the other hand, looks youthful in a simple white t-shirt and a black velvet jacket. She showed love to Bri'asia by kissing her cheek and nose as the girl giggled delighted and the camera captured the heartwarming exchange.
"Brunch wit[h] my princess #glambaby #BriBri #myboo," Leakes captioned the set of photos.
FANS' REACTIONS
Fans of the star took over her comment section to share their thoughts on the picture:
"Glambaby is getting so big, she's a cutie," wrote one user.
Another added, "There's nothing so sweet then spending downtime with your lovely glam-daughter as well as the fabulous glam-grand mama Nene Leakes. This will last forever, so precious! I love it!" and a third one said:
"Oh my! time flies. She has really gotten big. So adorable."
A SECRET PREGNANCY
Bri'asia is the daughter of Nene's eldest son, Bryson Bryant, with his former girlfriend, Ashely Hill. Bryson was 22-year-old when he became a father, the same age that Nene was when she had him.
Leakes revealed to In Touch back in 2012 that her son kept his girlfriend's pregnancy a secret because he knew she wasn't going to be on board with him having kids so young. "I didn't feel like he was ready for such a big responsibility," she said.
"I was his age when I had him, so I know how tough it is. I didn't want him to make the same mistakes that I did. I needed to let it sink in."
However, after the baby's birth, Leakes became the number one support for the new parents, paying for everything in the baby's nursery and showering her granddaughter with everything she needed and more.
"I always wanted to have a girl," she told the magazine, "and now I have one! She's just adorable."
THE NEGLECTED GRANDSON
While Bri'asia gets to enjoy the company of her famous and iconic "glam-ma" there's another baby that possibly carries Leake's blood but doesn't have the same luck.
Last week, a woman named Symone Davis gave an exclusive interview to Radar stating that Bryson Bryant is the father of her 1-year-old son Blaze Kai and that neither him or NeNe want to take responsibility for the kid.
"It's so sad, she wants nothing to do with her grandson," Davis, 27, told Radar about NeNe. "She's so selfish, and only cares about herself and her fame."
The woman also stated that NeNe wanted Blaze's existence to be a secret, and added:
"She has some nerve and told me she thinks I'm an opportunist and that she doesn't want me to have any fame from her name. It's crazy because I used to like her and be cool with her."
NENE SPEAKS UP
Last week Symone gave an interview to "The Armon Wiggins Show" where she slammed Bryant for not paying child support and Leakes for not even wanting to meet her grandson. But the reality star was not having it, and she made a call to the show to give her side of the story.
"I do not know Symone. In fact, I think Symone should be very worried about getting a lawsuit because she's made several defamatory comments," she said. "If she has a child with Bryson, it is not my child, it's not my responsibility, I do not have to do anything I do not want to."
Fans of the "RHOA" star believe that her photo with Bri'asia is a clear message to Symone and her son, stating that the only granddaughter she will recognize is the adorable 6-year-old.
Bryan, on the other hand, has yet to comment on the issue at hand.
Please fill in your e-mail so we can share with you our top stories!