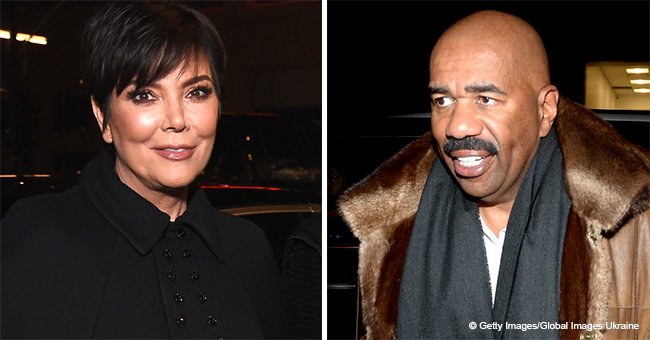 Steve Harvey speaks out on rumors he's leaving his wife Marjorie for Kris Jenner

TV host and comedian Steve Harvey has been involved in a lot of rumors surrounding his relationship with his wife, Marjorie Harvey. He finally cleared them up.
Admitting to being sick of all those speculations, Steve broke the silence and addressed the divorce rumors that have been chasing his family lately. One of the most popular things that were circulating the Internet was that he had to give Marjorie $400 million for the divorce.
Taking things lightly, he said that his wife came to him and asked, "Do we have $400 million?" to what he replied, "Nah. Not yet." Apart from that, rumors suggested that Kris Jenner was Steve's mistress.
HIS RELATIONSHIP WITH KRIS JENNER
News about that alleged relationship came to light earlier this year. Steve reportedly met several times with the Kardashian momager in "closed-door" business meetings. Apart from that, they "shared long phone calls" and text messages.
MARJORIE'S REACTION
Those meetings allegedly didn't please Marjorie, who threatened him with the divorce. Steve pointed out that he was sick of all those speculations, saying that such fake news might damage families.
"They act like I don't have family. They act like my kids can't read. They don't care. They just go out to destroy people with no facts behind it," admitted Steve.
TALKING ABOUT ANOTHER RUMOR
It was not the only speculation Steve recently addressed. It has been said that his talk show "Steve" had been canceled to give way to a new one hosted by singer Kelly Clarkson. He talked about that topic, too.
"I've always been an optimistic person. This is NBC's decision... I don't own any TV networks but I'm not a grudge type of person. I happen to be a talent. I think people recognize that. Whatever happens with the show moving forward, I'll be just fine."
HIS BEARD
A couple of months ago, Steve surprised his fans with his new style. People were used to his thick black mustache that was his most remarkable physical feature, but he changed it for a full salt-and-pepper beard.
"My wife liked it. I just think it's time to change it up every 10 years. I cut my hair off at 50. I changed my suits eight years ago," admitted the host, who has stopped dying his facial hair ever since.
STEVE'S "SICKLY" LOOK
Recently, Steve and his wife, Marjorie, attended the World Series in Los Angeles, California, to watch a game between the Boston Red Sox and Los Angeles Dodgers. One at the stadium, he ran into the NBA star Magic Johnson, so they posed together for a photo.
That encounter made headlines; not only because two influential black men got together, but because of Steve's "sickly" look. Several people took to the comment section to wonder whether the host was hiding an illness or something similar.
Others pointed out that his salt-and-pepper beard might be the reason why he looked that way. At the moment, nothing negative has been said about his health, which means that it might be nothing but a rumor.
Please fill in your e-mail so we can share with you our top stories!