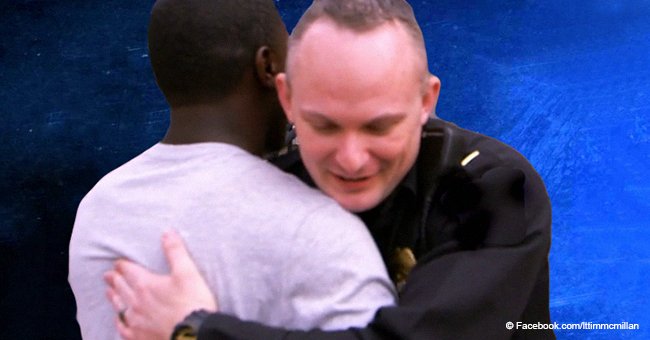 White officer's moving post after pulling over 'terrified' Black teen still gets hearts pumping
Lt. Tim McMillan felt overwhelmed after he pulled over a black teenager and witnessed his reaction, so he took to Facebook to share his experience as a way to make the world a better place.
In the post, the officer revealed that he saw that the driver of a car was texting while driving, so he pulled him over to talk for a while. Once he approached the vehicle, he noticed it was a young black man.
By the moment McMillan stood by the car, he realized that the teenager was looking at him "absolutely terrified" and even placed his hands up as a way to show that he had nothing in his hands.
"He said, 'What do you want me to do officer?' His voice was quivering. He was genuinely scared. I just looked at him for a moment, because what I was seeing made me sad. I said, 'I just don't want you to get hurt,'" confessed McMillan.
A CONCERNED TEENAGER
The teen then wondered if McMillan wanted him to get out of the car, but the officer said no and added that all he wanted to was that he stopped driving and texting as it might get him in a wreck. McMillan added that he wanted the teen's mother to always have her boy.
"I want you to grow up and be somebody. I don't even want to write you a ticket. Just please pay attention, and put the phone down. I just don't want you to get hurt," added Lt. McMillan.
THE BLAME
Talking about the fact that black people fear the police, the officer said that he didn't know – or care – whose fault it was that the teen was so scared to have a cop at his window. "Blame the media, blame bad cops, blame protestors, or Colin Kaepernick if you want. It doesn't matter to me who's to blame. I just wish somebody would fix it," added McMillan.
ANOTHER PERSON AFRAID OF THE POLICE
Unfortunately, that teen was not the only black person who got afraid of what a police officer might do to them. Ayanna Cruver also took to Facebook to share a video saying that a police officer pulled her over because he was concerned about how slow she was driving.
After realizing that there was nothing wrong and that she was safe, Cruver broke down to tears in front of the officer as a way to release all that fear she had inside. The policeman hugged her and said there was no reason to be worried about as he was just trying to make sure she was okay.
POLICE OFFICERS MAKING A DIFFERENCE
Thankfully, some officers are willing to do whatever they can to make people feel safe again despite all the news about police brutality, and Tommy Normal is one of them.
Whenever he has a chance, he reads stories to children, plays basketball with teens, and gets involved in some other activities with the members of his North Little Rock, Arkansas community.
As MIC reported, he has been a police officer since 1998 and has been a role model ever since. He gained national recognition in 2011 when he won the top prize in a contest of the show "America's Most Wanted" for delivering backpacks and shoes to children in need, as well as volunteering with numerous causes, including the Special Olympics.
He has not stopped working for North Little Rock, which crime rate was significantly higher than the state of Arkansas and it was more unsafe than 97% of other U.S. cities.
Please fill in your e-mail so we can share with you our top stories!