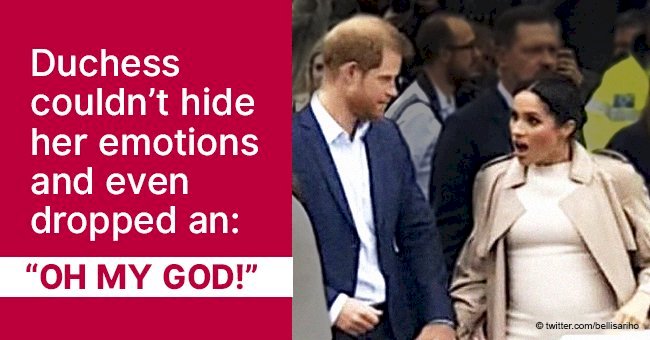 Meghan's jaw dropped after spotting a familiar face in the crowd
In 2015, Hannah Sergel followed Duchess Meghan on Instagram before she became a Royal. The following year in January, Meghan followed her back.
The two shared a connection with back-and-forth direct messages and a video. On Tuesday, Segel surprised the Duchess by appearing among the crowd during the Royal's tour.
Hannah Sergel, 20, stood amongst a huge group of Royal fans on Tuesday hoping to see the Duke and Duchess of Sussex. Sergel stood at Viaduct Harbour in Auckland with a sign reading "It's Hannah from Instagram."
As Duchess Meghan and Prince Harry walked by, the fan started calling out the Duchess' name. Turning and recognizing her, Meghan's jaw dropped as she walked closer.
For more on this story go to our Twitter account @amomama_usa. Sergel and Meghan built a bond after the student opened up to the former actress about her battle with mental health.
The Duchess sent Sergel a video and messages to the student to encourage and inspire her to work hard at university. Seeing her in the crowd, Meghan mouthed the words "Oh my god."
This was the first time that the pair had met in person. The Royal held Sergel's hands in her own before telling her to "Come here," and then she gave her a big hug.
The pair was friends on social media before the former actress got engaged to Harry. Unfortunately, after the engagement, Meghan had to delete her social media accounts.
Sergel had this to say about meeting her idol:
"I was friends with her on Instagram before she had to deactivate her account. We used to have conversations and stuff on there. She would tell me to do well at university and encourage me to be myself."
The student was left feeling "so shaky and flustered" after the encounter. However, she said the meeting "means the world to me."
A tearful Sergel gave the Duchess a letter to read and in response, Meghan told her "thank you for getting in touch" and promised to read the letter.
Speaking about her role model Sergel said:
"She's just such an incredible person and I'm just so glad she's happy with Harry."
The fan, which helped to set up a "Meghan Markle Daily" Twitter account in 2015, was so emotional after meeting Meghan that New Zealand Prime Minister Jacinda Ardern had to comfort her.
Ardern also personally sent Sergel a photo of Meghan's priceless reaction through private message. After the walkabout, Harry and Meghan went on to Rotorua on New Zealand's North Island.
Their 16-day 76-engagement tour ended with them walking hand-in-hand from a forest of century-old redwoods before heading off in a motorcade. On Wednesday, the Royal couple will fly back to London.
On Monday, the Duchess was criticized by William Hanson an etiquette expert. During an engagement in Wellington, Meghan was seen posing with one hand in her pocket.
Hanson explained that her relaxed approach was "a step too far" and "too unprofessional" for a Royal appearance, no matter how informal the couple would like to be. However, he believed in time Meghan would get used to the Royal protocols.
Please fill in your e-mail so we can share with you our top stories!