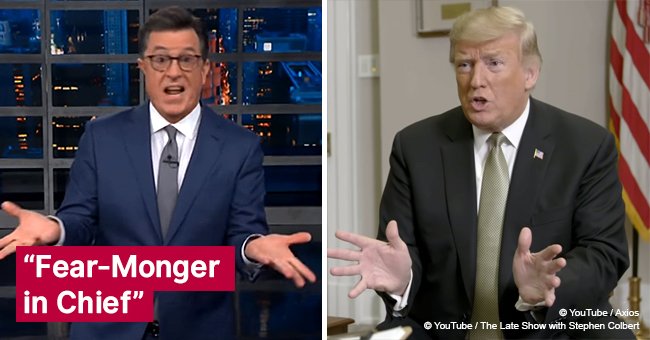 Stephen Colbert mocked Trump with a 4-letter word for encroachment on automatic US citizenship
In a recent interview preview with "Axios on HBO," President Trump revealed that he had plans to sign an executive order that would remove the right to citizenship for children of non-citizens and unauthorized immigrants that are born in the US.
He shared that he was going to implement it using an executive order. When Stephen Colbert heard about the planned move, he could only think of one word to call Trump.
The word that Stephen Colbert used to describe President Donald Trump in his short clip for "The Late Show with Stephen Colbert" was quite expletive. The word has four letters and starts with a "D."
Colbert shared a short clip of Wednesday's show where he called the president out for "immigration fear-mongering." A new four-part documentary news series will tackle the birthright issue and more.
For more on this story go to our Twitter account @amomama_usa. It will debut on HBO on Sunday at 6:30 p.m. ET/PT.
Reports state that this move by the president will be challenged in the courts. Plus its quite debatable if Trump has the power to do this through an executive order.
The short clip by Axios showed the president stating:
"It was always told to me that you needed a constitutional amendment. Guess what? You don't."
When the interviewer challenged him on the laws of citizenship, Trump added:
"You can definitely do it with an Act of Congress. But now they're saying I can do it just with an executive order."
He also claimed that America was "the only country in the world where a person comes in and has a baby, and the baby is essentially a citizen of the United States ... with all of those benefits." Trump then insisted that it was "ridiculous" and it had to end.
His statement wasn't factual in that more than 30 countries, most in the Western Hemisphere, allow for birthright citizenship. The 14th Amendment speaks against his ideas.
"All persons born or naturalized in the United States, and subject to the jurisdiction thereof, are citizens of the United States and of the State wherein they reside."
Only time will tell if Trump truly intends on following through on his promise.
Please fill in your e-mail so we can share with you our top stories!