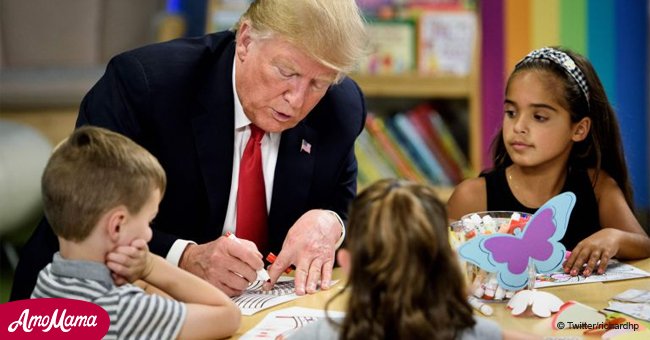 Donald Trump mocked after getting colors on U.S. flag wrong
The President of the United States has been receiving heated criticism online after he was photographed using the wrong colors for the American flag.
The Secretary of the U.S. Department of Health & Human Services, Alex Azar, said on Twitter that he had the privilege of joining President Trump and Melania to assist local communities.
The tweet was accompanied by three photos, one of them showing the President sitting with a group of kids. Unfortunately, he got the flag colors all wrong.
The tweet can be seen below. Read more on our Twitter account, @amomama_usa too.
While the Star-spangled banner does indeed consist of three colors - red, white and blue - Trump was seen coloring one of the stripes blue instead of red.
The flag consists of 13 alternating red and white stripes to represent the 13 colonies that declared their Independence from Britain in 1776.
Only the background behind the 50 white stars - one star for each state - is blue. Trump has since been mocked for his failure to get the colors right.
This coming from the President who called NFL players "son of [expletive]" for not showing due respect to the flag when they knelt before games.
The memes soon started pouring in, with one Twitter user sharing a picture with the heading: "I'm Donald J. Trump. The J stands for genius."
Another netizen shared a photo of Trump looking at the girl sitting next to him, and wrote: "When you don't know how to color the flag, so you try to cheat from the kid next to you."
Several users also pointed out that the Russian flag has a blue strip, and said that Trump was just proving his loyalty to "his employer."
President Trump sure has a way with words and this collection contains his most memorable tweets, including the tweet addressing his high I.Q and his thoughts on climate change.
The complete list can be viewed here.
Please fill in your e-mail so we can share with you our top stories!