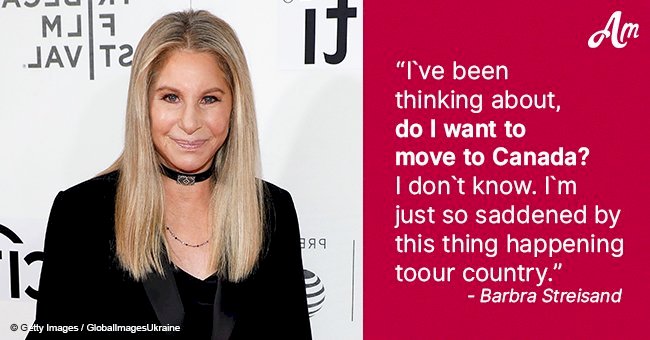 Barbra Streisand opened up she's considering moving to Canada if the Democrats lose

Barbra Streisand said that the President's actions kept her up at night and that she'd be able to sleep a bit better if Democrats take the House.
Streisand, 76, just released a new album called "Walls." It's littered with politically-infused lyrics addressing the current president, Donald Trump.
The artist spoke with The New York Times about the album, the MeToo movement, and several topics related to Trump. This included their shared home city and the good he's done (or lack thereof).
Follow us on Twitter for more @amomama.
Streisand could barely stay away from Trump-related comments. When asked how she's been feeling recently she replied:
"I want to sleep nights, if we take the House I'll be able to sleep a little bit better."
She was referring to the upcoming midterm elections which will decide the House of Representative seats.
The interviewer then asked what if that doesn't happen. And Streisand revealed that she might emigrate:
"Don't know. I've been thinking about, do I want to move to Canada? I don't know. I'm just so saddened by this thing happening to our country."
Streisand's consideration is not new. In anticipation of the 2016 elections, she mentioned that she would probably move to Canada if Trump won.
"He has no facts. I don't know, I can't believe it. I'm either coming to your country [Australia], if you'll let me in, or Canada."
The singer-actress based her latest album around her political stance. In the recent interview, she confessed she "would lie awake at night with Trump's outrages running through [her] head."
Since she was due for an album for Columbia Records, she figured she would "make an album about what's on [her] mind." It didn't matter if she offended fans who were Trump supporters.
"Art or music transcends politics, I think. I hope it does."
Streisand could not come up with any good that the current President has done. However, she has yet to meet him. Despite that, she claimed he is making her get fat.
"It's making me fat. I hear what he said now, and I have to go eat pancakes now, and pancakes are very fattening. We make them with healthy flour, though — almond flour, coconut flour."
Streisand's first single from the album "Walls" is a song called "Don't Lie To Me." It's directed right at the President himself and was directed by the artist.
The musician's only son followed in his mother's footsteps. He took a while to do so, starting in his mid-40s.
Source: YouTube/ Barbra Streisand
Jason Gould, Streisand's sole offspring, waited until he was ready to go into the industry. The 51-year-old also made attempts to avoid comparison with his legendary mother.
Gould, an openly gay man, released an album in 2014. He performed "How Deep is the Ocean" with his mother on one of her tours, Back to Brooklyn. His latest album was released in 2017 and titled "Dangerous Man."
Source: YouTube/ Barbra Streisand
Gould came along with Streisand's first marriage to Eliot Gould. After their divorce, Streisand remarried in 1998.
She and actor James Brolin's marriage have remained strong for over two decades now.
Please fill in your e-mail so we can share with you our top stories!