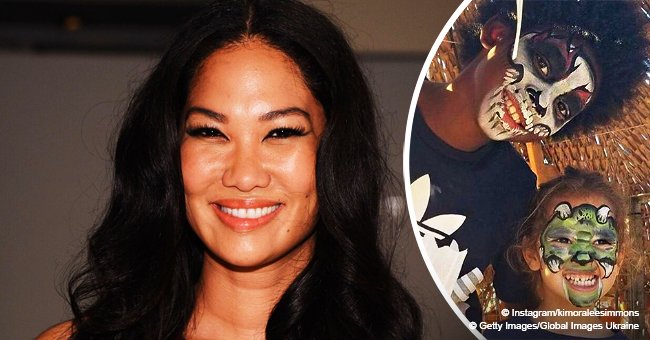 Kimora Lee Simmons melts hearts with photo of her 2 sons with painted faces on Halloween

Kimora Lee Simmons, the fashion model and designer, took to Instagram to share a photo of two of her children, Kenzo and Wolfe, celebrating Halloween.
In the post, nine-year-old Kenzo appeared wearing black Adidas sweatpants and a black, grey, and white Adidas shirt. His face was painted resembling a skull, a fact that attracted a lot of sights.
His three-year-old brother Wolfe, on the other hand, put on a blue shirt while his face was painted like a green dinosaur. In the caption, the proud mother wrote, "brothers," followed by the hashtag "My Kids Are Cute."
THE REACTION
As soon as Kimora uploaded that image, her followers took to the comment section to share their thoughts. Most of them thanked her for sharing such a beautiful moment while others wondered when the boys had grown up that big.
THE FAMILY
Kimora has had four children so far: Ming and Aoki Lee Simmons, from her previous relationship to record producer and author Russell Simmons; Kenzo, whose father is actor and model Djimon Hounsou; and Wolfe, from her relationship to banker Tim Leissner.
THE GRADUATIONS
It is not the first time that Kimora has made headlines this year. In June, she and her eldest daughter, Ming, earned their degrees at the same time. Kimora graduated from college while Ming got her high-school degree.
"Well, Ming Lee says I stole her light. She's upset to have to share it with me, but it's a great example of setting an example for yourself and your kids. When they say you're never too old to go back, it's true. No matter what situation you're in, it's possible," said Kimora.
She got her Bachelor of Arts in Business and Entrepreneurial Affairs from the University of Hartford in Connecticut, and she cannot be prouder of such a milestone.
THE HELP
Kimora pointed out that both Ming and Aoki helped her a lot throughout the process. One of the things they used to help her with was formatting and laying out her papers. Apart from that, they kept encouraging her to overcome tough situations, something that not every child is willing to do.
"I want that to be the message that in the last few months, I've dealt with school bullies, long nights, writing papers and everything else in our lives. I was doing this for me though. I was doing it for myself and it feels good," added Kimora.
THE RESEMBLANCE
Recently, Ming uploaded a photo showing her next to her famous mother letting everybody know just how similar both of them look. Apart from their eyes and skin color, their lips and noses are very alike.
At the moment, Kimora is focused on her career as a fashion designer. Ming has pointed out that she would like to have her fashion line, so she is probably working on fulfilling that dream.
Please fill in your e-mail so we can share with you our top stories!