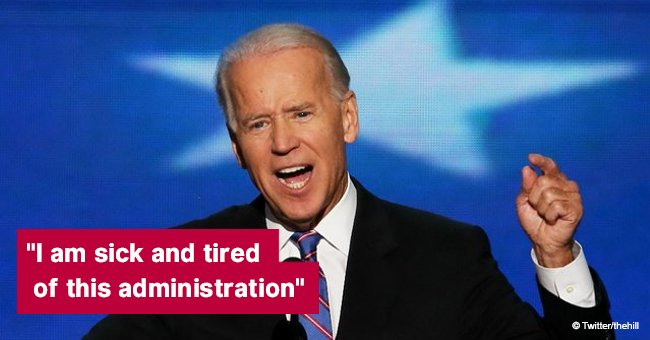 Former Vice President Joe Biden speaks at a campaign rally for Wisconsin Democrats
Ex-Vice President Joe Biden declared that he is "sick" of the Trump administration.
Former Vice President Joe Biden was in Madison Wisconsin to support Sen. Tammy Baldwin, who's seeking re-election against Republican state Sen. Leah Vukmir in the forthcoming midterm elections, reported Huffington Post on October 30, 2018.
Biden, who served for two terms as vice-president with Barack Obama, spoke out openly about his feelings with regards to the current administration and declared that he was "sick" of it.
"I am sick and tired of this administration. I am sick and tired of what's going on. I'm sick and tired of being sick and tired."
Joe Biden, Huffington Post, October 30, 2018.
A BATTLE FOR AMERICA'S SOUL
Biden, 75, spoke out in the aftermath of a wave of racially and politically motivated violence that has broken over the nation in the past week.
He believes that the deaths in the Pittsburgh synagogue, the execution black senior citizens in Kentucky and the attempts to mail bomb Trump's political critics and adversaries indicate a need to look beyond party politics at what must be done for the good of the American people.
A POSSIBLE PRESIDENTIAL CANDIDATE?
Biden is rumored to be considering presenting himself as a presidential candidate in 20101, but the former vice president refuses to confirm, saying only that he will make a decision by January 2019.
PRESIDENT TRUMP'S AGGRESSIVE RHETORIC BLAMED FOR FUELING VIOLENCE
President Donald Trump's well-known tweets vilifying his opponents are being blamed for fueling the mail bomber's violence. The President often refers to his adversaries in scathing and ungentlemanly terms, such as "crooked Hillary Clinton."
PRESIDENT'S POLITICAL ADVERSARIES TARGETTED
Former presidential candidate Hilary Clinton, along with Biden, were among the intended victims of the mail bomb attempts.
MAIL BOMBER APPREHENDED IN FLORIDA
Authorities have apprehended suspected mail bomber Cesar Sayoc, 56, in Florida. A search of his computer indicated that he had searched for the addresses of the families and children of his intended victims.
Sayoc is awaiting extradition to New York, where he will be tried on five counts, including illegally mailing explosives and threatening a president or a member of the president's family.
Please fill in your e-mail so we can share with you our top stories!