Morning TV-show's Halloween theme was 'famous personalities from the 80s'
The two leading morning shows of American television decided to go for a retro themed Halloween celebration this year, with both their casts returning to the eighties with their incredible costumes.
For the audiences of NBC and ABC who tuned in to watch their favorite morning show on October 31, it must have felt like they traveled back in time to the 1980's, as both "Today" and "Good Morning America" channeled the decade for Halloween.
While GTA focused strictly on TV characters, "Today" also added film characters and iconic musicians from the period, as US Weekly reported. Read more on our Twitter account @amomama_usa
"Did you catch our #Halloween '80s-themed reveal?! The party continues with us at 10!" was written in "Today" hosts Hoda Kotb and Kathie Lee Gifford joint Instagram account that morning, where they shared pictures of the cast in costumes.
SAVANNAH GUTHRIE
The 46-year-old Australian-American journalist and attorney who co-hosts "Today" dressed up as pop singer Cyndi Lauper.
"My Cyndi-rella moment! Thanks for the inspiration, @cyndilauper!" Guthrie captioned her short clip on Instagram in full "Girls just wanna have fun" attire.
CRAIG MELVIN
The 39-year-old news anchor and correspondent who joined the "Today" time very recently, showed up as Prince Akeem, heir to the throne of the fictional African nation of Zamunda played by Eddy Murphy in the 1988 romantic comedy "Coming to America."
"Good morning, my neighbors!" Melvin captioned a photo of himself dressed up as the African prince while standing in front of a taxi, quoting the hilarious character.
GINGER ZEE
37-year-old ABC and GMA chief meteorologist Ginger Zee was unrecognizable as Michelangelo from the "Teenage Mutant Ninja Turtles" comic and film franchise.
Zee shared a picture and a video in her Instagram account captioning it only with the hashtag #TurtlePower, and she gave a "ninja" kick to the camera while holding the character's iconic nunchaku.
AMY ROBACH
45-year-old GMA co-anchor chose to go as Peggy Bundy from "Married with Children," the politically incorrect dark comedy about a working-class dysfunctional family, which premiered in 1987.
"Boo ya'll the 80s just landed", Robach captioned a behind-the-scenes group shot on which she appears alongside meteorologist Robert Marciano -dressed up as "Saved by the Bell" Zach Morris- and T.J. Holmes -as "Love Boat" bartender Isaac Washington.
AL ROKER
The 64-year-old journalist and weather forecaster for "Today" paired with meteorologist Dylan Dreyer for a "Back to the Future" motive, with him dressed as Doc Brown (Christopher Lloyd) and her dressed as Marty McFly (Michael J. Fox).
Roker had to defend his choice of a white character after he was questioned about Megan Kelly's recent whiteface scandal. He answered with a simple piece of advice: "If you're white, you can be President Obama if you want. Just don't color your skin!"
HODA KOTB AND KATHIE LEE GIFFORD
54-year-old Kotb and 65-year-old Gifford who host together the 4th hour of "Today" not only wore excellent costumes of Elton John and Madonna respectively, but also gave wonderful performances.
Gifford reenacted Madonna's "Material Girl" while Kotb showed off her histrionic talents with her impersonation of the "I'm still standing" singer-songwriter.
THE ELLEN DEGENERES SHOW
60-year-old comedian and talk show host Ellen DeGeneres has always stood out for her Halloween costumes in her namesake program, and this year was no exception. While she has a solo show, she had very special celebrity guests to mark the occasion this year.
DeGeneres chose the dating reality TV show "The Bachelor" as her Halloween theme, and she dressed up as the fictional character of her own invention "Kelllly D." wearing a plunging silver dress and long blond curls.
"I'm a dental assistant, would you like me to examine your mouth with my tongue?," DeGeneres told "This is Us" star Milo Ventimiglia, always staying in character. Nick Viall, who was actually on "The Bachelor" joined the spoof as another "contestant"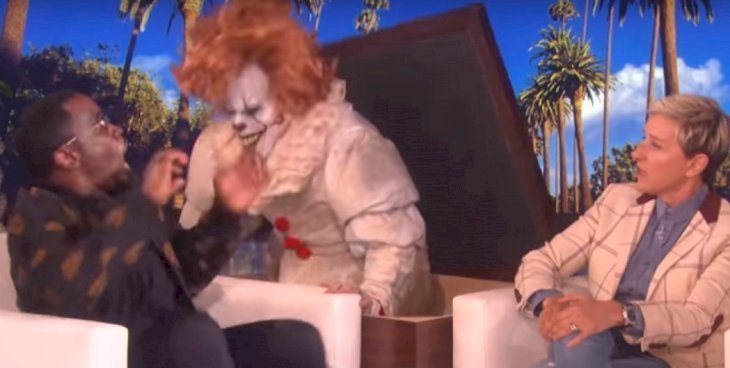 DeGeneres, who is known for making pranks on the guests to her show, knows that Halloween is not only about dressing up. Where is the fun if we don't get to scare people?
With this in mind, DeGeneres started Halloween early by giving rapper P. Diddy a good scare in front of the cameras right after he states that he is no afraid of clowns.