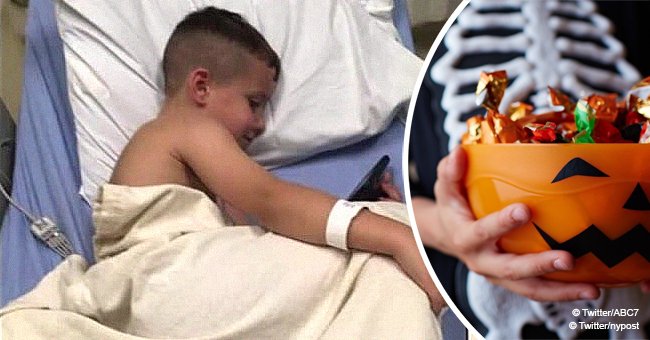 5-year-old boy tested positive for methamphetamine this week after trick-or-treating
The dangers of trick or treating were brought home to an Ohio family when their 5-year-old tested positive for methamphetamine.
For Julia Pence, 25, from Mount Gilead, Ohio, Halloween turned into a true nightmare when her 5-year-old son Braylen ingested methamphetamine while trick or treating, reported LadBible.com on November 1, 2018.
Braylen had gone trick or treating with his father, Cambray Carwell, knocking on doors around the neighborhood for approximately an hour and a half.
On their return home, the unthinkable happened, and Braylen had a seizure.
"You could tell at the hospital that he was real high from whatever he ingested. He was really wired and kind of aggressive."
BRAYLEN WAS RUSHED TO HOSPITAL
At Galion hospital, doctors gave Braylen a Cat scan and a urine test, The urine test showed that Braylen has ingested methamphetamine. Julia described her son's condition as 'disorientated and aggressive'.
Doctors believe the child might have ingested the meth accidentally through toy vampire teeth, or candy he had been "treated" to by one of his neighbors.
"WHEN THEY CAME INSIDE, MY SON HAD A SEIZURE AND HE COULDN'T FEEL HIS LEFT ARM"
Braylen spent seven hours in hospital under observation before he was allowed to go home. During the seizure, the little boy had lost sensation in his arm and had several behavioral reactions.
POLICE TOOK BRAYLEN'S CANDY AND VAMPIRE TEETH
The hospital alerted the Police who started an investigation. They took the candy and vampire teeth Braylen had collected, for toxicology tests. Though both parents admitted to substance abuse problems in the past, they are now sober.
AN ACCIDENT OR MALICE?
Further investigation will ascertain where the meth came from, and whether it was passed on to the child accidentally or with malicious intent. Julia has vowed that she will never allow her children to go trick or treating again.
"I want to warn other mothers to be aware of what their kids are being given when they go trick or treating."
ANOTHER FACET OF STRANGER DANGER
The incident has horrified parents throughout the USA but Galion Police Chief Brian Saterfield pointed out that Braylen's case is extremely unusual.
The truth is that the tradition of trick or treating places children in a vulnerable position, in which they can be targeted by predators or given noxious or dangerous substances to ingest.
Read more on Twitter Amomama USA.
BRAYLEN HADN'T EATEN CANDY WHEN HE FELL SICK
According to his father, Braylen had put some vampire teeth he'd received while trick or treating in his mouth several times before he had the seizure.
Authorities advise parents to throw away any candy that is not sealed with a wrapper and avoid homemade or repackaged treats received from strangers.
Any toys given to the children should be washed and checked to see if they are safe. Discard any hard candy or gum that may prove to be choking hazards.
Always accompany children while trick or treating, and contact your local Police department at the least hint of suspicious behavior.
Please fill in your e-mail so we can share with you our top stories!