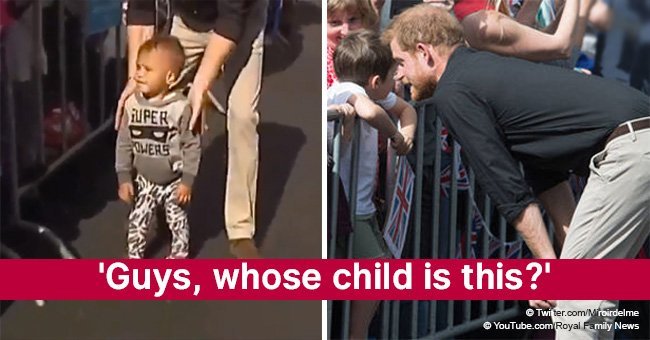 Prince Harry instantly turns on his paternal instinct after noticing a lost child in the crowd
Prince Harry shows that his "dad radar" is already on full alert.
On his final day in New Zealand, Prince Harry showed that he is ready to be a father and that his paternal instincts are fully engaged, as was shown on a post on Instagram/Miroir de l'Âme on October 31, 2018.
The Duke of Sussex was speaking to fans when he noticed that a little boy had squeezed through the railings that separated the crowds from the Royals, and was on his own.
"Guys, whose child is this?"
Prince Harry, Instagram/Miroir de l'Âme on October 31, 2018.
A TINY RUNAWAY CAUGHT BY THE PRINCE
The toddler was running towards the Prince and tried to dodge him, but Harry caught him and turned him around in the direction he'd been running from.
He marched the toddler back, hunching over and with his hands gently cupping the child's shoulders.
RETURNING THE RUNAWAY TO HIS PARENTS
Not long after, the Prince spotted the anxious parents in the crowd and handed the runaway over. Throughout the tour, barriers and railings have been ineffective in keeping away the Dukes of Sussex' tinier admirers.
CHILDREN, CHILDREN EVERYWHERE
The Duke and the Duchess, who announced the arrival of their first child on October 15, 2018, at the start of their tour of the antipodes, have had several encounters with Her Majesty's youngest subjects.
DUCHESS MEGHAN MET A TINY FAN
On the same occasion, Duchess Meghan also came across a small child on the wrong side of the barrier. She crouched down to have a chat and a dance with the little girl, and once again broke protocol by giving her a hug before returning her to her family.
Read more on Twitter Amomama USA.
BREAKING ROYAL PROTOCOL BY GIVING HUGS
Duchess Meghan is not the only one breaking Royal Protocol, Prince Harry also hugged a five-year-old boy with Down's Syndrome who rushed forward to cuddle the royal couple when they first landed in Australia.
Throughout their tour, the Royal couple has enchanted the locals with their warmth and their unaffected manners.
The couple, who married in May 2018, is quickly becoming the most popular duo in the Royal Family and lend a dynamic and compassionate face to the British Monarchy.
The Duke and the Duchess of Sussex are expecting their first child in the Spring of 2019.
Please fill in your e-mail so we can share with you our top stories!