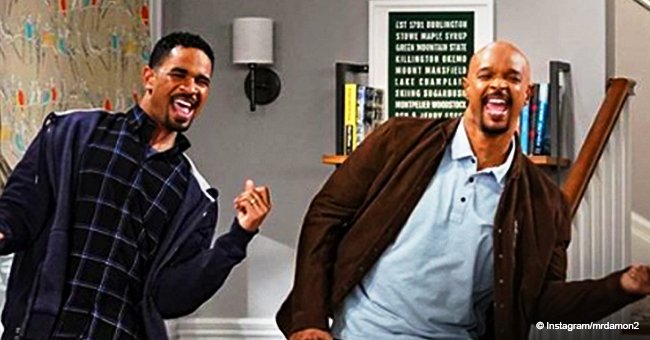 Damon Wayans Sr. and son Damon Wayans Jr. look like twins in matching poses in recent pic
Damon Wayans Jr. got his father, "My Wife and Kids" star Damon Wayans Sr. to make an appearance on his most recent TV series, "Happy Together." The father-son duo could easily pass as twins in a snippet of the show that Wayans Jr. shared on Instagram.
Damon Wayans Jr. took to Instagram to share a photo from the upcoming episode of CBS's new series "Happy Together," where he gives life to Jake Davis, an accountant whose life changes when Cooper James, one of his clients and mega pop star, moves into his attic.
In the series, Jake will get a visit from his dad, Mike Davis, and who's better to play Damon's dad that his real-life father, Damon Wayans Sr.?
The episode is expected to be filled with hilarious moments, and in the pic shared by Wayans, the father-son duo is seen dancing in the middle of the living room and singing. Their resemblance is uncanny, and even though Wayans Sr. is 58, and his son is 35, they could easily pass as siblings.
"Damon Wayans Jr. and Damon Wayans Sr. on an all-new episode of 'Happy Together' TONIGHT @ 8:30 pm on CBS! Weird that he made me from sex, and now I'm dancing next to him," Wayans Jr. captioned the picture.
WORKING WITH DAD ON SCREEN
The Wayans family is known for their comedy strike, and this is not the first time that the Damon and Damon have worked together on screen. In the early 2000s, Wayans Jr. appeared on several episodes of his dad's sitcom, "My Wife and Kids," but now that he's the star, the actor made sure to "flex" on his dad.
"I made sure he had a smaller dressing room than me," he said to Entertainment Weekly with a laugh. "I had cooler clothes than him. It's my show, you know, you're on my time now."
Talking about how the network got his dad on the show, Wayans Jr. joked saying:
"I had my agent call his agent, and there was some negotiations, No, he came by to set, I think the second episode we were shooting, and he liked what we were doing, and I was like, 'Would you ever want to do an episode?' And he was like, 'Sure.'"
He also revealed that is always a "blast" to work with his father. "We hang out all the time in real life, so it wasn't a stretch. It didn't feel foreign. It just felt like hanging out in front of a live audience," he stated.
WAYANS SR. IS PLANNING TO "GET HIS SMILE BACK"
And while Wayans Jr. series is just on its first season (and receiving a not so warm reaction from the public,) Wayans Sr. is currently filming the third season of Warner Bros. series "Lethal Weapon." But not for long.
The father of four recently revealed in an interview with Electronic Urban Report that he'd be quitting the series after production on the 13-episode third season in December.
He stated that being a 58-year-old diabetic that works 16 hours a day has taken a toll on his life, so he's looking forward to "find his smile again." He added:
"I'm from a big family, a loving family and I haven't seen them. All of the family gatherings, I'm too tired or I can't because it conflicts with work. My grandkids... I've been missing recitals and graduations, and to me, it's not worth it. There's a better way to live life."
Reps for Fox and Warner Bros. TV declined to comment.
Please fill in your e-mail so we can share with you our top stories!