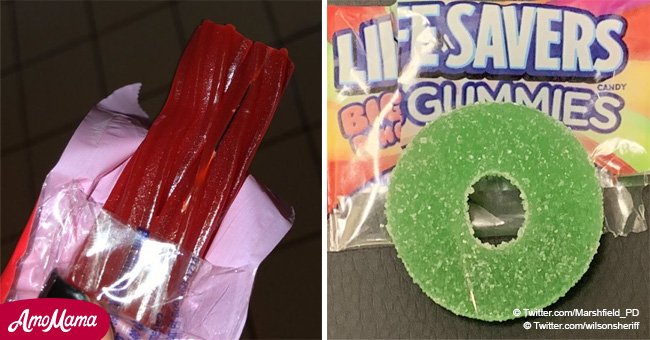 Needles found inside a popular Halloween treat
On Thursday, the Marshfield Police Department warned residents to throw away any Twizzlers collected during Halloween. The warning came after sewing needles were found inside the candy.
A family in Brant Rock found a needle in their child's candy. The company that manufactures the sweets said the problem could not be at their factories.
Brant Rock resident Carol Keating' shared that her three-year-old grandson had gone trick-or-treating in the neighborhood on Halloween. The child's mother later found two separate Twizzlers packs with sewing needles in them.
The candy was among the toddler's other sweets in his bag. Keating speculated on the origin of the needles that were found in the candy.
For more on this story go to our Twitter account @amomama_usa. She said:
"I would like to think that there was a problem at the factory. And if that's the case, I'm even more worried now God knows how many are out there."
Hershey's, which manufactures Twizzlers addressed the matter via a spokesperson. They said it was unlikely that the candy was altered at the factory.

Source: Twitter/Wilson Co Sheriff
The spokesperson revealed that they had strict quality programs, including metal detectors that ensure products are safe. Keating shared that "It doesn't anger me, it frightens me."

Source: Twitter/Wilson Co Sheriff
She added that she was thankful her daughter inspected her grandson's candy. Keating stated:
"It's really hard for me to imagine that anybody in this neighborhood would do something like that. Because like I said, we go to the same places all year, we've never had a problem."
Police are investigating the contaminated candy to determine where they came from. Police Chief Phillip Tavares said:
"This was supposed to be a night that was fun for the children. But I'll tell you what, anyone caught giving out candy contaminated with injury-causing substances faces five years in state prison."
On the same day, a second family came forward at night to report a small piece of metal found in a pack of Twizzlers.
In Tennessee, the Wilson County Sheriff's Office said:
"A report was taken last night in Mt. Juliet after a mother noticed a candy wrapper had been altered. A needle was then located in the piece of candy."
The sheriff's office advised people to check their candy "to ensure that it is properly sealed and has not been altered."

Source: Twitter/Wilson Co Sheriff
In Ohio, police are investigating a claim from a Facebook post that said a nail was found in a snack-sized Snickers bar. A child got the candy on Tuesday after going trick-or-treating in Tipp City.
Please fill in your e-mail so we can share with you our top stories!