Beyoncé's mom heats up talk after sharing video of Diddy dancing in scary clown costume
Tina Lawson, the mother of Beyoncé, took to Instagram to share a video of the Halloween costume that a friend of the family put on for their celebration.
In the clip, the man appeared wearing white clown clothes and a mask, resembling Pennywise, the antagonist of the film "It." The person behind the camera was having a very good time as he showed off his moves in front of everybody.
For the caption, Tina wrote, "You would never guess who this is and no I didn't I just said 'what an amazing costume!!' I'll give you a hint! Look at how cool he is dancing!! Any ideas??"
PEOPLE'S REACTION
Some other photos of that party set clear that the man behind the clown's mask was singer and rapper Diddy. As soon as Tina uploaded that video, several people took to the comment section to try naming the clown.
A lot of people thought that it was Jamie Foxx, others said it was Kevin Hart, Usher, and even Kanye West. However, most of Tina's followers got it right. One of them pointed out that they discovered it was Diddy for his signature moves. Another user admitted that the rapper was fighting his fears.
WHY A CLOWN COSTUME?
One of the principal aspects that made Diddy wear a scary clown outfit was probably the surprise he got while at the "Ellen DeGeneres Show," when a man dressed up like Pennywise scared him.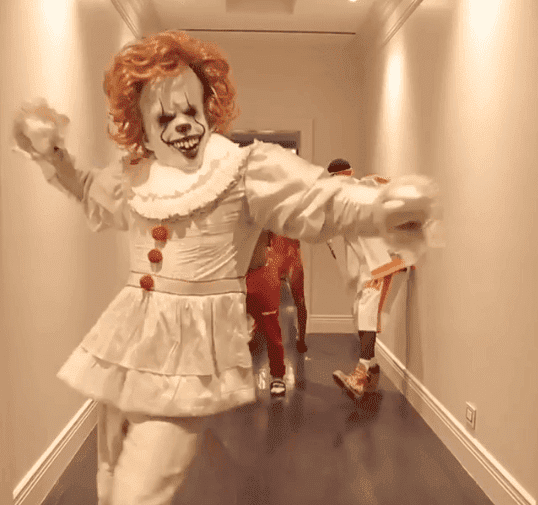 During the show, Ellen, who has surprised several celebrities throughout the years, said that she heard Diddy was scared of clowns, setting up the atmosphere for the prank. Diddy said that it was impossible because he was a black man, so he could be fearful of several things, but a clown "is not going to scare me."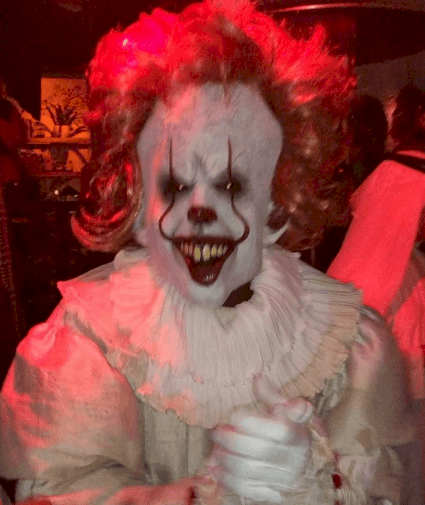 HIS HILARIOUS REACTION
Less than a second after he repeated he was not afraid of clowns, a man wearing a Pennywise costume jumped out a box that was strategically placed a couple of inches away from the singer. Even though it was not the first time that Ellen did such a thing, Diddy didn't expect it.
After screaming out loud, he hopped his way out of his chair and started dancing off the fear. Diddy later revealed that he woke up that morning asking for having a life full of surprises, and even thanked Ellen for doing such a thing.
DIDDY'S DAUGHTERS AND THE CARTERS
It was not the first time that Diddy and Beyoncé's family get together. In fact, they are good friends, and the rapper recently uploaded a photo of his three daughters posing next to Beyoncé and her husband, Jay-Z.
They did so during the Carters' "On the Run II" show in San Diego. Twins Jessie James and D'Lila Star, 11, wore matching leather ensembles and buns on their heads while their sister Chance, 12, kept it simpler with a light grey top and pants. 
Diddy is the father of six children. Apart from his three daughters, he also has sons Quincy, 27, Justin, 24, and Christian, 20.