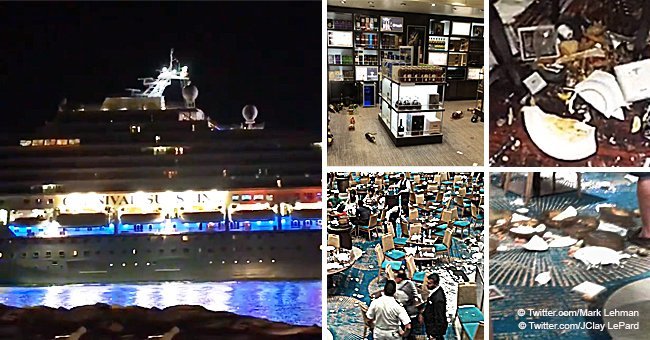 Passengers terrified when cruise ship tilts to one side causing chaos onboard
The Carnival Sunshine titled dangerously to one side only several hours after leaving Port Canaveral over the weekend.
Clay LePard shared images of the aftereffects on Twitter, and wrote in the caption: "[CarnivalCruise] says the ship listed (tilted or leaned) because of a technical issue just hours after leaving [PortCanaveral.]"
Read more on our Twitter account, @amomama_usa. Some of the images and a video clip can be viewed below.
The technical issues were caused by a fin stabilizer, which caused the ship to lean to one side. Passengers were in a panic.
Thankfully, the evening didn't end in disasters, and the cruise crew was able to proceed with a normal evening for their guests, and continue on its journey.
Technicians confirmed that the ship was still fully operational and said they "remain confident of the safety of the ship as we are committed to the safety of our guests and crew."
The Captain later issued a letter to all guests, explaining what the problem was. He apologized for the listing incident and said they identified an electrical switchboard malfunction.
It impacted the fin stabilizers, but he clarified that the stabilizers are not a safety feature. They are deployed only for guest comfort "to minimize any potential ship motion while at sea."
He added: "There was never any issue with the safe operation of the ship and our officers quickly intervened to correct the situation."
The Captain also authorized a $50 credit per person on board, which will be a credit to the passengers' Sail & Sign account. He concluded:
"We are grateful for your understanding. My officers, staff and crew are dedicated to ensuring you enjoy the remainder of your cruise."
Some of the passengers later told reporters that they were "shifting," and falling out of their seats, while another said it was something she'd never forget.
Passenger David Crews told CBS that he didn't think anything of it at first because it's not "uncommon for ships to rock back and forth." However, he added:
"Plates and silverware started sliding off the tables. Then the tables themselves started to slide. Glasses and plates started to fall and shatter. At this point, it was pure chaos. Screams. Cries. Panic."
Please fill in your e-mail so we can share with you our top stories!