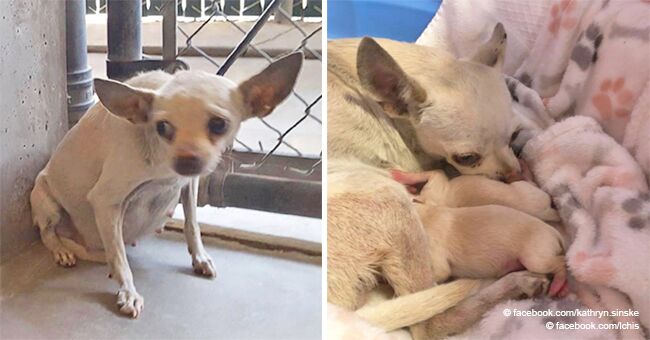 Pregnant dog was saved just in time for her to deliver her puppies
A female Chihuahua that had just given birth to four puppies after being rescued from the streets about to delivery, conquered the heart of a kind woman who saw her picture in a shelter's social media.
Heavily pregnant Claire was found by animal control officers in San Bernardino, California, and taken to a shelter right on time for her puppies to be born in a safe and healthy environment, according to The Dodo.
Although one of Claire's puppies didn't survive, thanks for the timely intervention of these officers, she and her three remaining babies were taken care of for a while, and now the challenge was to find a proper home for them.
A message asking for volunteers to offer refuge or a permanent home for Claire and her puppies was posted to an animal rescuing Facebook page, and it quickly captured the interest of the right person. Read more on our Twitter account @amomama_usa
As soon as Kathryn Sinske saw a picture of Claire in the social network she felt specially concerned for the distressed animal, described in the announcement as being "terrified," and right after Claire gave birth, the touched woman headed to the shelter.
"They handed her to me in a carrier and I could tell she was super scared. I even had to sign a waiver because she was listed as fearful," Sinske said.
Sinske took Claire and the three surviving puppies to her home, but the recent mother's experienced health complications as she suffered from anemia and a high fever, but Sinske was committed to do everything in her power to help the little family through.
After some difficult days and many visits to the veterinarian, Claire was in good shape to care for her puppies herself, and Sinske could dedicate herself solely to pamper the dog she helped get back on her feet.
"After everything she's been through I have no problem making sure she gets what she wants. She is so sweet, loves to get lots of love and sit in my lap."
-Kathryn Sinske, The Dodo, October 25, 2018.
Sinske couldn't resist the way Claire looked at her, and the lucky mom and her puppies won her over in a second, but sometimes it happens the other way around and a dog is immediately taken by a person he or she just met.
33-year-old Yvonne Walsh witnessed such a moment after delivering her baby boy Nicholas, who was only four days old when Walsh introduced Quica, her Chihuahua, to the newborn, and luckily for us, the dog's adorable reaction was caught on video.
Please fill in your e-mail so we can share with you our top stories!