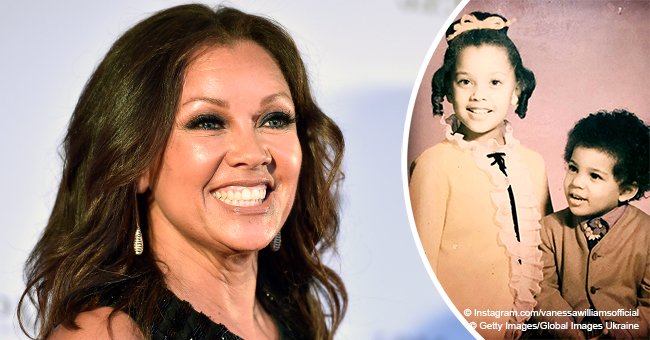 Vanessa Williams sends birthday love to actor brother who looks a lot like his sister
Vanessa Williams, best known for winning the Miss America contest in 1983 and for portraying Wilhelmina Slater on "Ugly Betty," took to Instagram to send a birthday wish to her brother, actor Chris Williams.
In the post, uploaded on November 2, Vanessa appeared next to Chris several years ago as they were portrayed as young children. Both of them were wearing suits that made them look very elegant yet age-appropriate.
For the caption, Vanessa wrote, "Happy Birthday My Brother," tagging Chris and adding the hashtag "Family Photography." As soon as she uploaded that image, her followers took to the comment section to share their thoughts.
PEOPLE'S REACTION
Most of them wished Chris a happy birthday, as well, while others praised the look of both children saying that their beautiful curls were the highlight of the post. "You still look the same," wrote one user referring to Vanessa.
CHRIS' HALLOWEEN COSTUMES
Just after Halloween, Chris, known for his role as Eddie in "The Great Indoors" and as Hoover in "Silicon Valley," uploaded a series of images showing him and the costumes he wore over the past couple of years.
RECEIVING HIS FOURTH-DEGREE BLACK BELT
He has portrayed everything from a mime, a member of the Beatles, and a karate kid. Chris is very familiar with martial arts, though, as he recently uploaded a couple of videos from the Sky Martial Arts Center in Los Angeles receiving his fourth-degree black belt master level.
One of the most interesting aspects about it was that the ceremony took place on the same day he turned 51 years old, what made his birthday even more special. In the caption, he thanked all those who sent him good wishes and pointed out that another accomplishment came with another year.
HIS CAREER
Apart from appearing in the previously mentioned shows, Chris took some minor roles in "Hype," "Curb Your Enthusiasm," Reno 911!" "Californication," "Family Time," "One Big Happy," and so on.
TALKING ABOUT REJECTION
Back in 2011, both Vanessa and Chris sat down next to their mother, Helen, to talk about rejection. They said that people should learn how to deal with it as all that mattered was giving your best. If someone else's best was better than yours at that particular moment, that's okay as people need to realize that it was a matter of the job at hand.
VANESSA GOING ON A DATE
The actress recently made headlines after she uploaded a photo next to her third husband, Jim Skrip, enjoying a cozy date night to celebrate their love. Even though she has a full schedule with her acting and singing compromises, she always finds time to spend with her husband, especially now that all of her children are out of their house.
For their outing, Vanessa rocked a furry vest with a sweater underneath and her reading glasses, while Jim kept it casual donning a grey hoodie. The couple looked like any other middle-aged marriage enjoying a movie night, and fans loved that they're so relatable.
Please fill in your e-mail so we can share with you our top stories!