Touching moment when a disabled father dances with his daughter for the first time caught on video
The heartwarming moment when a daughter danced for the first in her life with her disabled father went viral on the internet. The teenager couldn't help but burst into tears in the middle of her birthday party.
Odet Belas is a 50-year-old rubbish collector from the Philippines. When he was a child, Belas suffered from Polio, a disease that can affect a person's brain and spinal cord, causing a total or partial paralysis. In Belas' case, the disease affected his legs, leaving him with barely any strength to move around.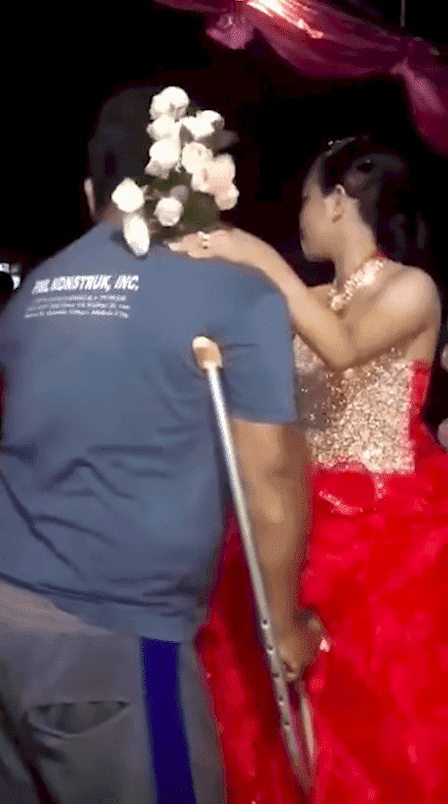 He relies on his crutches most of the time, and when he works, he uses a waste-collecting cart. The man makes about 250 pesos per day, the equivalent of $4,60.
Bela's only child, Rosalinda, recently celebrated her 18th birthday with a traditional filipin "coming of age" celebration that was possible thanks to her father's efforts. The man saved up through two years to be able to throw his daughter's her dreamed birthday bash.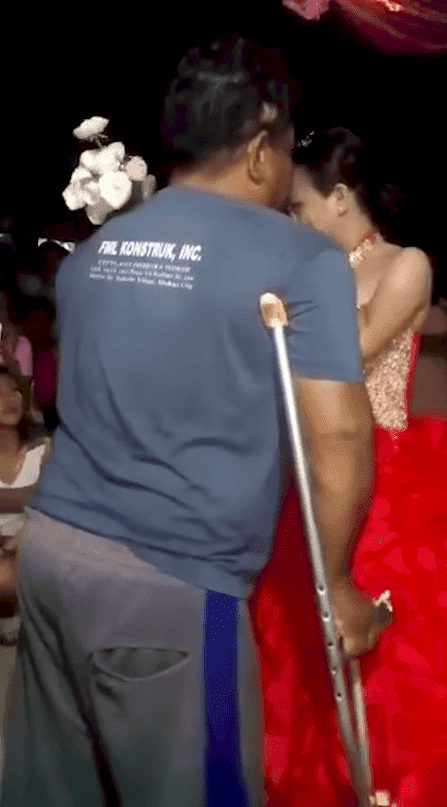 Rosalinda looked gorgeous in a sparkling red dress, surrounded by family and friends, she couldn't ask for more. But her father had one more surprise in store to make her day even more special.
Is a tradition for the girls to have a father-daughter dance on their coming of age, but because of her dad's condition, Rosalinda knew it would be hard for her to have the same. However, Belas stood up with the help of his crutches, and to the amazement of his daughter, he made his best effort to dance with her.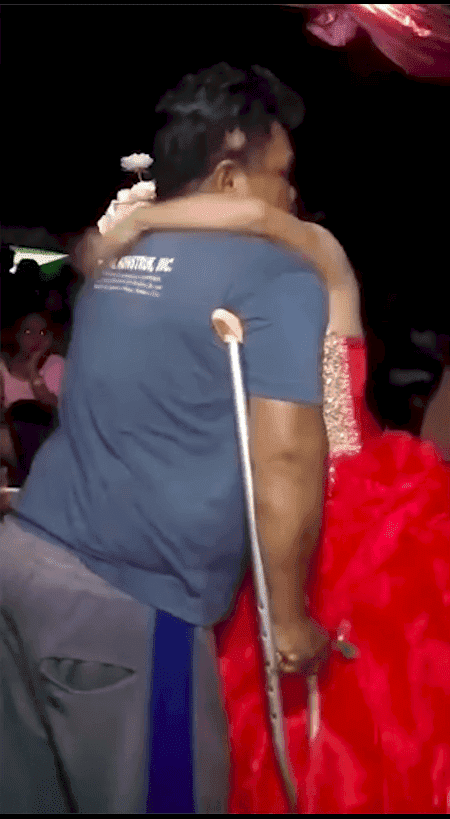 While it was hard for Belas actually to dance in crutches, he enjoyed the special moment with his child, and Rosalinda couldn't contain her tears for long. She hugged her dad with tears rolling down her face, while family and friends alike recorded and took pictures of the pair.
"This was the happiest moment of my life. I'm so lucky to have a father. We may not be the richest, but the struggles he has been through to give me a special day shows the power of love." Rosalinda told News Flare.
Belas is a fantastic father that would do anything for his daughter, and Rosalinda will surely remember her coming of age party as one of the most special moments in her life.