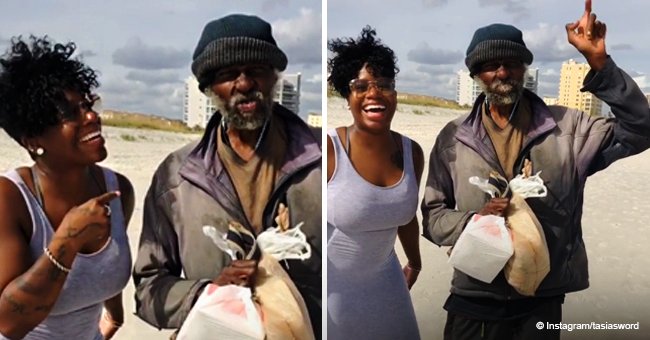 Fantasia Barrino helps homeless man on the beach & shares powerful message about being grateful
Fantasia Barrino, the winner of the third season of "American Idol," took to Instagram to share a video of her helping a homeless man who lives on the beach.
In the first clip, she explained to the camera that she met a man named Mr. Willis who was cheerfully dancing in the water with no complaints despite the fact that he lives on the beach, so she thought that helping him out in any way would be good.
She bought him some food, items to wash himself, some clothes, and a radio so he could listen to some music while dancing. Fantasia told her followers that Mr. Willis made her realize something that most people tend to forget.
THE MESSAGE
"We complain about so much, but Mr. Willis was out there dancing in the water with no complaints," said the singer, who added that the man was in Jacksonville so that everybody who wanted to help him knew where to find him.
For the caption, she wrote that it was her way to give back and that she was so much like her grandmother. It was not the only video Fantasia uploaded addressing her encounter with Mr. Willis, though.
THE SECOND CLIP
In the second clip, she was on the beach next to the man, who was holding a bag of food. He could be heard saying, "Jesus is still alive," what made Fantasia write an uplifting caption for her post.
"Did you hear what he said? He said, 'Jesus is still alive'... So, if a man can find peace, sustenance, hope, and demonstrate perseverance in his day, how is it that we can be in the presence of any level of abundance, family, and comfort but remain unable to maintain a spirit of praise & thanksgiving?" she wrote.
TELLING DETAILS ABOUT MR. WILLIS SITUATION
Fantasia added that Mr. Willis ended up in Jacksonville following all he lost from Hurricane Katrina, but that he still danced in the waves of the ocean every day. "I'm going to continue to dance in my waves no matter how hard they crash on the shores of my life!" finished the singer.
PEOPLE'S REACTION
As soon as she uploaded those videos, her followers took to the comment section to praise Fantasia for such a kind action, saying that he probably considered she was a blessing on that day. Others just pointed out that the world needed more people like Fantasia.
THE SINGER'S GRANDMOTHER
Fantasia's grandmother, Apostle Addie Collins, who she named in the caption of the first video, was a preacher who died in April 2015. The singer described her as a true angel with a big heart full of love. She passed away due to a massive heart attack.
Her experience made Fantasia change her lifestyle as she noticed that if she didn't do so, she could end up like Apostle Addie. Thanks to those changes, she lost several pounds and, at the moment, is living a healthier life.
Please fill in your e-mail so we can share with you our top stories!