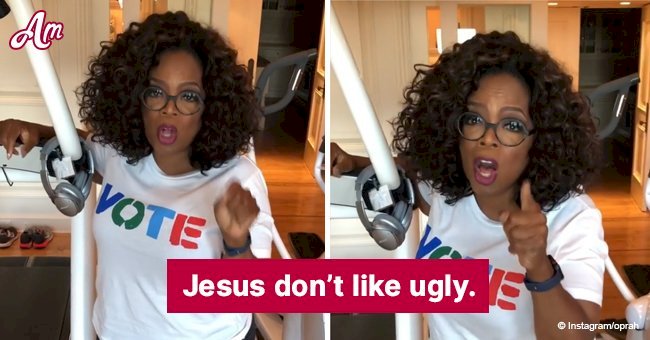 Oprah Winfrey responds to 'Racist Robocalls' in an Instagram video
Oprah responds to racist robocalls targeting her and Stacey Abrams in Georgia race in a passionate Instagram video, shown below.
In a recent campaign stop, Oprah Winfrey threw her support behind Georgia Democratic gubernatorial candidate Stacey Abrams. She also took the oppurtunity to reiterate that she would not run for office in 2020. She had previously denied the rumours in an interview with Vogue Magazine earlier this year.
She assured the crowd that she was not paid and came to the event under her own will. She went as far as saying, "I came for myself and I approve this message."
Oprah chose to support Abrams because she felt Abrams stood for the values Oprah and all Georgians held dear to them. She joined Abrams for a second rally and a door-to-door walk about.
Oprah was quoted as saying she believes Abrams will "serve the underserved." The support garnered massive attention, and some were not welcome.
One of the unsavoury groups that Oprah's and Abrams' campaigned garnered the attention of was a white supremacist group called The Road to Power. The group is infamously known for targeting Florida gubernatorial candidate Andrew Gillum with racist robocalls.
They've now turned their attention to the Georgia Democratic gubernatorial candidate Stacey Abrams and Oprah. In a robocall, a pre-recorded voice imitates Oprah.
In the phone call, the voice gives a message which contains racist and anti-Semitic rhetoric. The message was sent out to Georgia voters. It is not known how many people received the message.
OPRAH'S RESPONSE TO THE ROBOCALLS:
On Monday this week, Oprah took to Instagram to address the racist robocalls in a video which she shared with her fifteen million followers. In the video she gave tips to her fans on how to respond to the robocalls.
"I heard people are making racist robocalls in my name against Stacey Abrams, who I am 100 percent for in Georgia. I just want to say, Jesus don't like ugly,"
Abrams also came out to condemn the robocalls. Even her official opposition, Brian Kemp, denounced the calls. He called them "disgusting" and "unbridled hate and unapologetic bigotry."
Oprah went on to confirm her support of Abrams. She also instructed fans to use their right to vote in the video and reiterated the message with her t-shirt.
Her final words to fans was through her advice in her caption. She wrote, "The antidote to Hate... VOTE your love!"
Please fill in your e-mail so we can share with you our top stories!