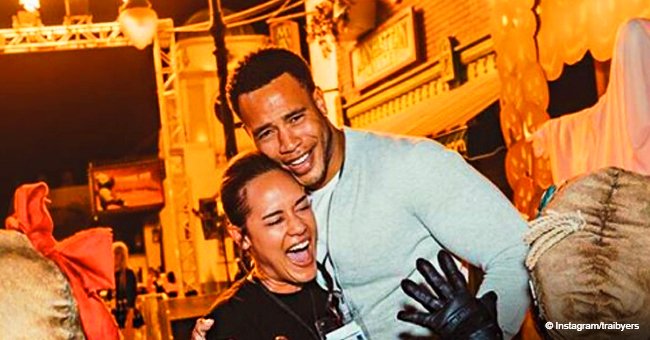 'Empire' star Trai Byers embraces wife on an 'awesome' night out
Trai Byers and Grace Gealey surely know how to have fun, even when they're being chased by "monsters" on a Halloween attraction. Byers took to his Instagram to share a few pics of their special "spooky" date night, and they looked as in love as ever.
The "Empire" star took his wife on a different type of date a few weeks ago. They walked through the Halloween Horror Nights event at Universal Studios in Hollywood, and by the looks of it, they had an incredible time getting scared.
In a set of pics shared by Byers, he's seen protectively embracing Gealey as they are being "attacked" by a pair of "monsters" with a pair of chainsaws on their hands. Trai showed off his buff body with a tight long-sleeved light blue shirt and jeans, while Grace looked lovely in a simple black t-shirt and jeans.
Trai also posed with his fists up, ready to fight a "Demogorgon," the fictitious monster from Netflix's series "Stranger Things," and then sat with Grace on a set that's the replica of a living room featured in the same TV series.
"The tradition continues! We had an awesome time!" he captioned the set of pictures.
Fans took over the actor's comment section to gush about the couple:
"You two are the cutest couple ever!!!!! Shine on!" - @kinyatta_davis
"The last pic is so dope. Couple Goals!" - @jessikadarling_
"Legit Y'all are relationship goals stay blessed." - @zebaashaikh
"Such a beautiful couple & HHN nearly gives me a heart attack, but I always wanna go back each year." - @lovely_lioness_
Is not rare for Byers and Gealey to be called "couple goals," considering that their love story has captivated fans all over the country.
A UNIQUE LOVE STORY
They met on the set of "Empire," where Trai gives life to Andre Lyon, the eldest son of the troubled Lyon family, and Grace gave life to Anika Calhoun, who was involved with Andre's father, Lucious Lyon, and his younger brother, Hakeem.
A year after they met, the Grace and Trai tied the knot in a private ceremony at the Grand Cayman Island. Since then, the couple has been open about their love for each other, continually sharing lengthy messages of love and support on social media.
On Grace's birthday, Byers dedicated a lovely message to her that reads:
"I give thanks for the day you were born. On that day I received a gift that I would have to wait for, grow for, mature for... you were so worth the wait! I've been many places in my life, seen many things, but nothing compares to the smile on your face when you wake in the morning."
And continues:
"You are IT for me, and God is indeed so good to bless me with your hand to hold. Thank you for saying yes to me. Thank you for putting up with me. Thank you for standing your ground with me. You teach me so much about true manhood, you require no less, and you deserve no less."
CREATING AWARENESS WITH HIS PERFORMANCE
Byers is very passionate about his feelings, just as he's for his career. The 35-year-old has been praised by fans and critics for his sincere performance of a bipolar character, and having a family member that suffers from the same condition, Byers knew he had to make justice to Andre.
Speaking to the Huffington Post a few years ago, Byers opened up about his thought on bipolar disorder and how its handled in the U.S:
"Bipolar disorder -- and mental illness in general -- is something I think we as a country kind of sweep under the rug. We pass it off as behavioral problems rather than a genuine imbalance that sometimes dictates our behavior," he stated. And continued:
"To be able to have a platform for people with bipolar disorder on "Empire" is amazing. So many people have reached out who are bipolar or who deal with people who are bipolar and are appreciative of the way we deal we have dealt with it authentically."
He also reflected on the stigma that people with mental disorders face daily, specifically the myth that they can't be successful. "You don't have this scarlet letter just because you're dealing with any mental disorder," he said. "It's just something that you have to monitor, take care of and have support from your community, whatever that may be."
Please fill in your e-mail so we can share with you our top stories!