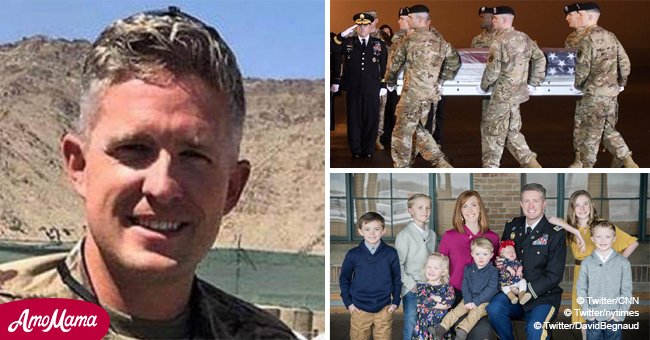 Body of Utah mayor killed in Afghanistan returns to the US
The city of North Ogden, Utah was shocked to learn the news about its former mayor Brent Taylor, who took a year off his elected position to serve his country abroad, been killed in an insider attack.
Taylor stepped down from his position as North Ogden mayor in January 2018 to serve with the Utah Army National Guard, announcing that he was going to be deployed to Afghanistan for a year and leaving Brent Chugg in charge.
He intended to return to his mayoral duties in January, 2019, as state law only allowed him to take leave from office for 12 months, but he found his demise in the hands of an officer from Afghan allied forces two months before.
Taylor was reportedly victim of a fatal insider attack from a member of the Afghan National Defense and Security Forces, who was immediately killed in turn by other Afghan Forces, according to the Utah Army National Guard.
"My heart breaks for the loss and sacrifice of our soldier, particularly for the family," said Maj. Gen. Jefferson S. Burton, the adjutant general. "I wish them all the comfort and courage to face the difficult days ahead."
North Ogden City Councilman Phillip Swanson delivered the sad news to the citizens in a Facebook post. Swanson later told the Standard-Examiner by phone that the city residents are taking the news "terribly."
The North Ogden City Hall issued a statement lamenting Taylor's death and recognizing his labor as a public server.
"Brent had a profound influence on this community. He was the best of men with the ability to see potential and possibility in everything around him. We feel blessed to have had him as our mayor. Everywhere you look in North Ogden you can see his profound influence," it said.
BACK IN US SOIL
Taylor's remains arrived at US soil in the early hours of November 6, and his widow Jennie was there to receive them at the Dover Air Force Base in Delaware, according to the NY Post.
The former mayor was 39 years old at the time of his death, and apart from his widow, he is survived by their seven children ranging from 11 months to 13 years old.
"This morning my two oldest sons have joined me and their devastated grandparents in welcoming their father, Major Brent Russell Taylor, back onto U.S. soil and back home to the land he has always loved so dearly," Mrs. Taylor said in a statement.
"To say our hearts are anything less than shattered would be nothing less than true deceit. And yet to deny the sacred honor that is to stand that close to some of the freshest blood that has been spilled for our country would be absolute blasphemy," she added.
AN INSIDER ATTACK
The man responsible for Taylor's death was a member of the Afghan Armed Forces who had been trained by him, in what marks the fifth "insider attack" against US forces in the country in the last four months.
The incident took place in Afghanistan's capital city, Kabul, and another US official was injured in the attack that is under investigation.
Afghan military officer and US Marine Corp University graduate Maj. Abdul Rahman Rahmani posted an open letter to Taylor's family to Twitter as a tribute to a man he called "an inspiring man who loved you all."
"I want you all to know that Afghans feel extreme sorrow and pain over the loss of your husband and father… please don't think that the violent act that took his life is representative of us or our sentiments toward Americans," Rhamani wrote.
A LONG-LASTING WAR
US forces invaded Afghanistan 17 years ago in October 2001 following the 9/11 terrorist attacks led by Osama Bin Laden, and after helping create a transitional government and rebuild the Afghan Armed Forces, American troops have continued to be deployed in the country's evolving conflict.
Currently, the US Army is fighting a branch of the Islamic State alongside the Afghan Armed Forces to try to extend the Afghan government's reach in the Afghanistan-Pakistan border.
Having the second largest US Forces participation in a war in history, following the Vietnam War, which lasted 19 years meaning that American soldiers and their families have made many sacrifices for this conflict.
Please fill in your e-mail so we can share with you our top stories!