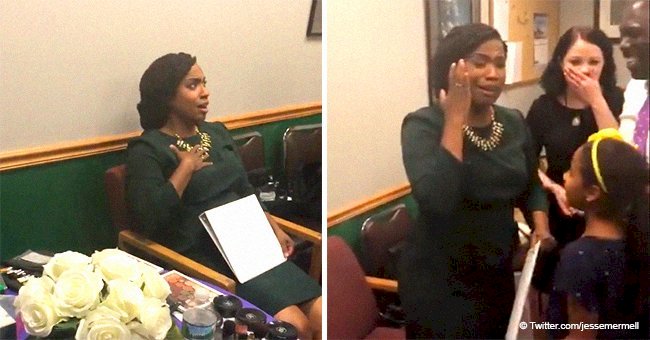 Ayanna Pressley officially becomes Massachusetts' first black congresswoman
Ayanna Pressley has broken through the glass ceiling. She is officially Massachusetts' first black congresswoman.
In September, Ayanna Pressley beat 10-term incumbent Michael Capuano in the Democratic primary election. She won the 7th Congressional District of Massachusetts.
She would not face a Republican opponent in the midterm elections. Since then Pressley was in the perfect position to become the first black woman to represent Massachusetts in Congress.
The early victory had come as a massive surprise. Even Pressley herself was blown away when the win was announced.
She used the first win to her advantage and set herself up for a firm victory. She geared up to advocate for her district in Congress.
While some were surprised by her initial victory, others saw it coming. The brilliant congresswoman has a long list of political background including working for Senator John Kerry and Representative Joseph Kennedy II.
In 2009, she had become the first black woman elected to the Boston City Council. While she was on the city council, she established the Boston's Committee on Healthy Women, Families and Communities.
Now ten years later, she has broken through the barriers once again. On Tuesday she won her House race in Massachusetts' 7th District.
The win saw her become the state's first black woman elected to Congress. The run for congressman put her amongst the record-breaking number of women nominated for the 2018 midterm election.
Her campaign centered around changing the status quo of Congress. She aimed to give a voice to those who were previously not heard.
While she may have run uncontested in this round of voting but she certainly did not slack off. Pressley remained poised throughout the campaign and even rejected PAC money to fund her campaign.
During her campaign, she made her views clear. She firmly supports gun reform, universal health care and the dismantling of Immigrations and Customs Enforcement (ICE).
Pressley, who was born and grew up in Chicago, openly spoke about the hardships she needed to overcome including sexual assault and being raised by a single mother who was a community activist.
She even spoke about how she had to deal with her mom passing away from Leukemia. Her openness about her struggles endeared her to the people.
''Activists and agitators have brought us to this very moment. 'None of us ran to make history. We ran to make change … and change is on the way." Pressley said before adding, "Can a congresswoman wear her hair in braids? Rock a black leather jacket?''
The statement certainly leaves one wondering how many more barriers will this brave congresswoman break.
Please fill in your e-mail so we can share with you our top stories!