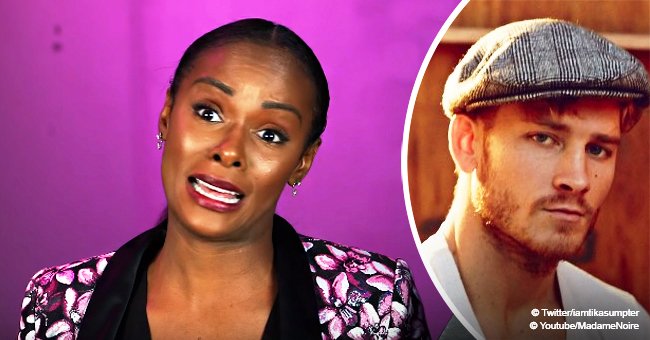 Tika Sumpter fires back yet again at critics coming for her interracial relationship in new video

Tika Sumpter tells her critics to lay off her man in her latest video where she addresses issues concerning her interracial relationship.
Tika Sumpter is making it clear – who she dates is nobody's business but hers. The actress recently clapped back at incessant critics who judge her interracial relationship with Nick James.
In a video for MadameNoire promoting her film "Nobody's Fool," Tika opened up about what she really thinks about trolls slamming her for dating a White man.
"Don't come after my dude like that," Tika threatened after explaining that "love is love for everybody."
She also suggests people who come after her relationship are simply not happy with their own lives. She tells them,
"Look within your own lives maybe you're just not that happy and I'm sorry about that."
Tika warns her critics that she's "a nice girl" but she's "going to say something back" at least once.
"When somebody tries to play me and then play him, nah, I can't pass on that one."
Her main point is that "you fall in love with who you fall in love with" and she couldn't care less about what others think about her relationship.
This isn't the first time the actress fired back at trolls. Last month, she retaliated on social media when a user called Nick "a bedwench." The incident occurred after a photo of another Nick James was posted online assuming he was Tika's boyfriend. Men criticized Tika in the comments section for her poor choice in men along with other black women who date white men. When one user pointed out that the man in the photo was not Tika's Nick, a man replied, "STILL A BEDWENCH."
Not one to respond to the comment in silence, Tika fired back by posting a photo of her with Nick and captioning it,
"Nope. Fixed it. PS. The kid in pic looks super sweet. Do better."
In another post responding to a tweet accusing her of betrayal, she wrote,
"Betray? Never. I'm just a girl who met a boy and fell in love. I hope you find someone and do exactly that."
Tika has been very discreet about her private life. In fact, she initially kept Nick's identity a secret after she discovered she was pregnant with their child. She explained later that she didn't want to be subjected to the negativity of people asking about her baby's father and making judgments about her life. She waited until she was ready to tell the world.
Tika has been engaged to Nick for two years. The couple met on the set of "The Haves and Have Nots." Their daughter Ella is now two.
Please fill in your e-mail so we can share with you our top stories!