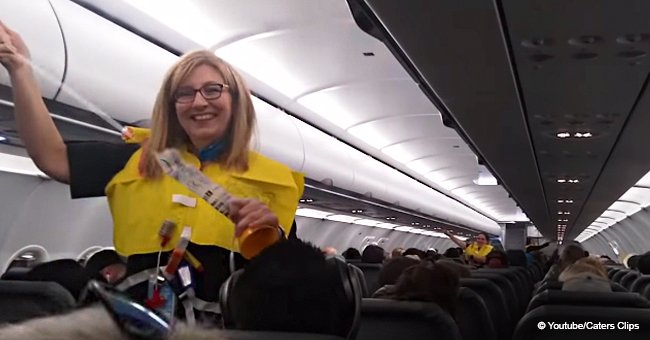 'World's funniest' flight attendant goes viral after turning safety announcement into comedy show
A man has earned the title of the "world's funniest flight attendant" after he left passengers on his flight in stitches over his unique way of delivering safety instructions. One of the passengers recorded the hilarious speech, and the clip went viral almost immediately.
Daniel Sandberg, a flight attendant that loves his job, has earned the hearts and laughs of people all over the country with his quirky and snarky sense of humor and wit. The man took over the airplane's tannoy to deliver the typically dull and repetitive safety announcement before take off, but the passengers got more than just instructions in case of an accident.
AN UNUSUAL SAFETY ANNOUNCEMENT
Cindy Kuhn, 55, knew she had to start recording the minute that Sandberg began his speech by introducing the flight attendant at the front of the plane as his wife, and the one in the back as his mistress.
Sandberg turned the safety speech into his own 3-minute comedy routine, making rows of passengers laugh as he pointed at the exits of the plane but pointed out that, "If you do decide to leave, you will not be allowed access back, and parachutes are not included."
He had people in hysterics when he said in a suggestive tone:
"If needed due to a loss of cabin pressure, four oxygen masks will drop from the compartment over your head, ignore those and grab the nearest flight attendant to get some air."
"I'm just kidding. I'm so lonely."
He also urged passengers to adjust their own masks before attending to "their favorite child" or their "husband who is definitely screaming louder than you are," and made fun of the airlines' increased rates, adding that, only those who paid the extra $49.99 would get oxygen.
Sandberg stroke a chord with the passengers, who clapped and screamed in delight at the end of the announcement.
SETTING HIGH EXPECTATIONS AMONG FLIGHT ATTENDANTS
Kuhn revealed that she felt lucky to have been on the 11 pm flight from Orlando to Colorado Springs of that day, as she got to witness something that was definitely special and rare. She told Daily Mail:
"It was fun to experience something like this first hand, just being there and having such a rare and hilarious moment happen. I felt lucky to be there, considering you normally only see these things in viral videos. When he started his announcement, it really perked people up, and we all expected it to escalate in humor, which it did."
She also added that Sandberg's spiel was a smart move considering that some people are usually cranky or scared while jumping on a flight, but by giving his announcement a humorous spin, he lifted everyone's spirits.
The grandmother of two added:
"It's a great feeling when you can bring positivity to people all around the world. It was absolutely hilarious, refreshing and I think it was cherished too. I know I'll always cherish that moment. The attendant on my next flight has a hard act to follow - if I could, I'd request to have Daniel on every one of my flights."
Her video has earned over 17 million views on Facebook, and Sandberg has been featured in news site from all over the world.
The man wrote on his Facebook:
"Well, that's pretty neat! From America, to the Netherlands, to Zimbabwe and Australia... it's pretty cool to see a video of yourself spread around the world!"
Please fill in your e-mail so we can share with you our top stories!