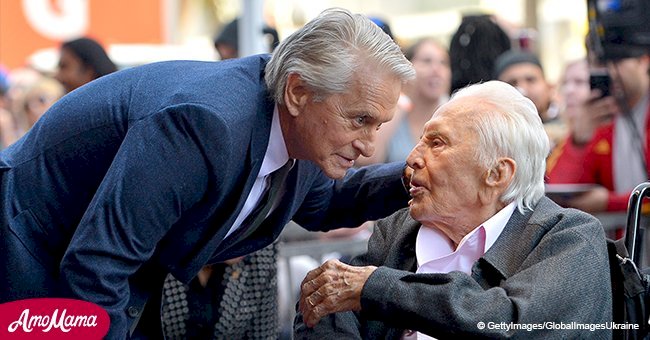 Michael Douglas kisses proud father Kirk at his Walk of Fame star ceremony

Michael Douglas finally received a Hollywood star. He has been in the entertainment industry for over five decades.
The 74-year-old actor is known for films like "The China Syndrome," "Basic Instinct," "The Kominsky Method," and recently, "Ant-Man and the Wasp." The picture of Michael sharing a kiss with his father is found below.
He was joined by his wife, actress Catherine Zeta-Jones, his 39-year-old son Cameron, and his 101-year-old father, former actor Kirk Douglas. Others in attendance were "China Syndrome" co-star Jane Fonda, "Will & Grace" star Eric McCormack, Ron Meyer, and Andy Garcia.
Follow us on Twitter for more @amomama.
According to the Daily Mail, Michael said of the long-awaited occasion:
"Let's face it, this is a great honor and I'm not getting any younger. I'm going to enjoy it with my wife and my son and my caretakers and my great-great-grandkids."
And so he did. The actor gave a heartfelt speech in which he praised Fonda, 80, for her friendship and her work ethic in their shared film. He commented: "At the time she was doing quadruple duty."
"She was not only starring with me, [but] she was [also] my producing partner, on the campaign trail for her husband and finally, her biggest project: She was shooting a hit series that was eventually watched by hundreds of millions of fans. I'm speaking about her exercise videos. Thank you, Jane, you are a second generation sister. I appreciate you."
Michael, who has two children with his current wife, said he was "proud to see [his] son, Cameron." And that the "love of [his] life is here."
"I'm talking about Catherine. I'm grateful for your support and your love and your patience. By the way, in another week we are celebrating our 18th anniversary so thank you for the best 18 years of my life sweetheart!"
Source: YouTube/ Variety
Michael gave his wife Catherine, 49, a warm kiss in front of the cameras during the ceremony. His beloved wife was also excited about the achievement. She shared a video on Instagram and commentated:
"Well, we are in the car. And someone is getting a Hollywood star on the Walk of Fame and that is my hubby."
Michael also gave his father a loving peck on the lips. Kirk starred in popular films including "Spartacus," "The Vikings," and "Paths of Glory."
In his speech, he said:
"My dad is here. In a month, Kirk will be 102 years old! It means so much to me, Dad, that you're here today. Thank you for your advice, inspiration, and I'll say it simply and with all my heart: I'm so proud to be your son."
Back in the summer, Michael revealed that his centenarian father still works out for his health. He told Lorraine Kelly that "he still has a trainer. He works out with a trainer at 101."
The family now covers four generations since Cameron welcomed his son and great-grandson to Kirk in 2016. They should certainly be proud of their strong bond.
Please fill in your e-mail so we can share with you our top stories!