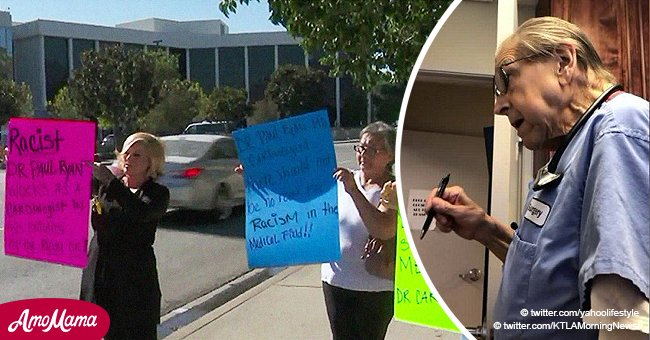 Doctor unleashes 'racist' rant on old woman for not speaking English, and it sparks a protest
Dr. Paul Ryan of San Bernardino, California, came under fire after criticizing a senior woman for not speaking English.
The cardiologist, 76, was captured on video going up against Maria Ramirez, 67, and her daughter Yuset Galura amid her appointment recently.
In an interview with KTLA, Galura explained that Dr. Ryan lashed out at her mom when she inquired as to whether he communicated in Spanish.
Galura's daughter, Bridget Napoles, revealed in an Instagram post that the doctor replied to her Mexican-born grandmother, "why should I [speak Spanish]? You came here."
Follow us on our Twitter account, @amomama_usa, to learn more and scroll down to watch the video below.
According to Napoles, Dr. Ryan, who earned his medical degree from Duke University School of Medicine in 1971 and has been practicing medicine for more than four decades, told her grandma that "Roosevelt said if you don't speak English go home."
Galura then pressed the doctor to clarify what did any of it had to do with her mom's well-being, to which he responded, "Nothing she's been here in this county she should know English."
By then, Napoles decided to pull out her mobile phone and started to record the exchange between Dr. Ryan and her mom.
In the video, Galura can be heard slamming the doctor that he's "offensive."
"No, no, no, I'm not offensive, I'm not offensive, I'm not offensive. I am an American, born here," Ryan tells Galura.
"You don't need to do nothing but tell me if something's wrong with her. If she's ok, if she's not. You don't need to tell me that she needs to learn English," Galura says.
Napoles' mother clears up that she's there to interpret for Ramirez, and that Dr. Ryan can speak with her mom through her. However, the doctor tells her that "it's not the same."
Galura and Napoles said that Ramirez is a US citizen who has been in the country for over four decades yet does not communicate in English.
Napoles wrote on Instagram, "She worked, she paid her taxes, she paid off her house so how does it affect anyone that she doesn't speak english."
"My mom and i tag along to each of her appointments and no one has ever had an issue with it. And in those 45 years she has NEVER had someone come at her like this," she added.
After the incident, Galura, Ramirez and other family members staged a protest outside the cardiology practice, Daily Mail reported.
Holding up signs, they called out Dr. Ryan, whose profile on dignityhealth.org shows that he talks both English and Spanish, for being racist towards his Mexican patients.
According to a statement released by the Pulse Cardiology, they are conducting an internal investigation into the conduct of Dr. Ryan.
"The reported incident does not reflect the values of Pulse physicians, assistants and administrators," the statement added. "Since its inception three years ago as the Inland Empire's premier cardiology practice, Pulse has proudly served all patients regardless of nationality with a diverse staff that is fluent in several languages, including Spanish."
Daily Mail reported that Dr. Ryan is currently not seeing any patients.
Please fill in your e-mail so we can share with you our top stories!