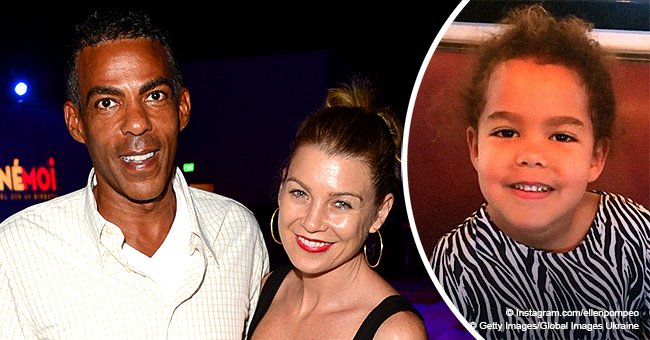 Ellen Pompeo & Chris Ivery's daughter steals hearts with her adorable laugh in recent video
Ellen Pompeo's new video of her daughter showcases a common trait between mother and daughter- their infectious laugh.
Fans can't get enough of Ellen Pompeo's daughter Sienna. In most videos her mother shares of her, she's such a delight to watch. She adorably sings and dances, and she even has a cute laugh. A recent video of the four-year-old has her mother in stitches as she fouls up one word she's asked to say.
It's election season and Ellen is one of many stars who's making an effort to encourage people to vote. The actress recently asked the help of her second daughter to send the message across. In a short clip, Ellen instructs Sienna to say the word, "Vote." The little charmer instead says "boat." Ellen laughs and corrects her but she still utters the word "boat" and starts laughing. It's clear the little girl is pulling her mother's leg and Ellen can't help but be amused at her daughter's playfulness.
"My SiSi is like a heart on fire," the doting mom wrote to caption the cute video.
Fans were equally in awe of the little girl whose laugh one commenter described as "infectious," much like her mother's laugh in the background. "Too cute!," another wrote.
Ellen has been delighting her fans with snippets of Sienna's antics. Last month, the proud mom showcased her talent sharing a video of the little entertainer shaking and grooving to a hip-hop song. She wore sunglasses and snapped to the beat of the music before asking for a cookie as a reward.
We're certain Sienna got her talent and confidence from her parents. While Ellen is more popularly known as Doctor Grey in the longest running medical television drama, Grey's Anatomy, Sienna's father is Chris Ivery, a music producer. Sienna was born via surrogate in 2004. She's preceded by her eight-year-old sister, Stella who Ellen gave birth to. Ellen and Chris' third child, Eli Christopher was born in 2016.
Please fill in your e-mail so we can share with you our top stories!