Police shares photo of woman cleaning windows with an important warning
A terrible crime might be underway in the house next door, and you may never know.
British Police are working to expand awareness of a crime that may be taking place in any quiet neighborhood, in the house next door.
Domestic servitude is on the rise in the UK, and the victims are often unable to ask for help or contact the authorities, reported Somerset Live.com on November 8, 2018.
The Police's reports were received with mixed feelings by women who work from home, who pointed out that their own activities might be mistaken for "servitude."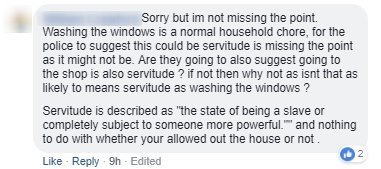 DOMESTIC SERVITUDE: MODERN SLAVERY
Some may think slavery is something from the past, some hideous practice long done away with, but statistics indicate that 1,2 million people are enslaved in Europe alone. The number of people living in slavery worldwide is estimated at 45 million.
And modern slavery is lowkey and pervasive, explain the Police. The house next door may hold a slave, and you would never notice.

WHAT IS DOMESTIC SERVITUDE
A victim of domestic servitude is forced to work in a private household carrying out domestic duties for little or no pay. The enslaved individual is often forbidden to step out of the house or have any contact with people outside the family.

CHARGED FOR ROOM AND BOARD
When the victims are paid a nominal salary, food and boarding charges are deducted, and the slave is often left owing the "master" money. They are frequently housed in subhuman condition, sometimes little more than a mattress on a floor.

FRIGHTENING NUMBER INDICATE RISE IN DOMESTIC SERVITUDE
The National Crime Agency reported that 5145 potential victims were submitted through the National Referral Mechanism in 2017 alone, and further noted that this is one of the most under-reported crimes.

WHO ARE THE MODERN SLAVERS?
Of course, when modern slavery comes to mind, most immediately think of sex-trafficking rings, but the numbers indicate that domestic servitude and labor servitude have outstripped sexual exploitation as money-makers. 
The people who seek out and "purchase" modern slaves may well be someone you know, who works with you, or lives next door.
UNIVERSITY LECTURER ARRESTED ON SLAVERY CHARGES
Pritpal Binning, 56, and her husband Palvinder, 54, were arrested in their home in affluent Chilworth, near Southampton.
The couple owns a luxurious five-bedroom £1.2 million home which they were refurbishing. Unbeknownst to their friends and neighbors, the couple had enslaved a Polish builder, who had been working on their home for 4 years in exchange for out-of-date food.
The man had been sleeping on a plastic sun lounger in a tool shed at the bottom of their garden.
The police raided the couple's luxury home after the alleged victim went to an NHS walk-in health center and reported that he was forced to work for food and forbidden contact with anyone outside the family.
The Binnings have been released, but are under investigation pending further inquiries into the matter.