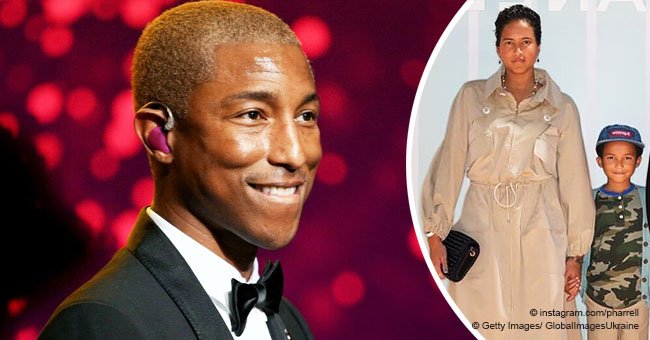 Pharrell Williams shares adorable photos with wife and rarely-seen 9-year-old son
Singer and producer Pharrell Williams took to Instagram to share a couple of photos of his wife and son, whose face has rarely been seen on his social media accounts.
In the first post, Pharrell appeared wearing black and white Adidas shoes, loose navy pants, a black jacket covering a white shirt, and sunglasses standing straight for the picture.
Next to him, his nine-year-old son, Rocket, was wearing khaki pants, a camo shirt, and a cap. The singer's wife, Helen, chose a light brown oversize coat. For the caption, Pharrell wrote: "Our lil shrimp roll."
PEOPLE'S REACTION
The second image portrayed the family taking a selfie flashing their beautiful smiles at the camera. As soon as he uploaded those pics, his followers took to the comment section to share their thoughts. Most of them pointed out that Rocket looked adorable and seemed surprised by the posts.
DIGGING INTO HIS NAME
Not only Rocket is the son of one of the most talented musicians in recent times, but also he has a one-of-a-kind name. In 2013, Pharrell talked to Oprah Winfrey about his decision on naming his son that way.
"In the same way that the Indians name their children behind a force or an animal, or an element, we named him after a manmade machine that was meant to go up, meant to ascend," revealed the singer.
HIS FAVORITE MUSICIANS
Apart from that, Pharrell added that he chose it because of Stevie Wonder's "Rocket Love," Elton John's "Rocket Man," and Herbie Hancock's "Rocket," who he labeled as his favorite musicians. Finally, Pharrell said that his son's middle name, Ayer, was a tribute to Roy Ayers, the jazz-funk icon who became famous in the 1970s.
PHARRELL'S TRIPLETS
Rocket is not the couple's only son. In January 2017, Helen welcomed triplets to the world. During an interview Pharrell had with Good Morning America, he revealed that he has a team of 12 nurses in constant rotation to help him and Helen take care of the children.
His revelation about their staff came after he praised his wife for being strong despite all the circumstances that she has faced. Aside from giving birth to three children all in one go, Helen is also a part of the US Navy Special Forces, particularly SEAL Team Six. She is the one who takes care of the diapers most of the time, too.
Pharrell said that even though there are several people around the toddlers, he has done his best to get a fair share of parenting. One of the most memorable things the children do according to him is to synchronize their cries. At the moment, he is focused on taking care of his family in the best possible way.
Please fill in your e-mail so we can share with you our top stories!