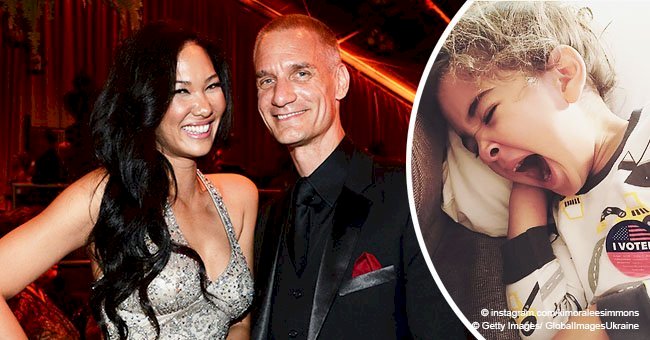 Kimora Lee Simmons shares photo of sleepy son after husband pleads guilty for money laundering scam
Kimora Lee Simmons recently shared an adorable photo of her son, Wolfe Leissner, but the former runway model disabled comments on the post, probably avoiding any remarks about her family's latest scandal.
Simmons is known as many things- model, fashion designer, and businesswoman. But what she treasures most is her job as a mom to four lovely children.
Simmons shared a glimpse into her mom-life with a photo of her last child, Wolfe Lee Leissner. Dressed in what looks like a character print pajamas, Wolfe yawned while resting his head on a pillow.
There was a blue-and-red "I Voted" sticker on the three-year-old's pajamas Top and Simmons delivered an essential message in the caption:
"Was up early this morning, but we got it done! #VOTE it's your right! Young voters account for over 1/2 the voting population and every vote counts! Proud of you! #getoutandvote"
CORRUPTION SCANDAL
Unlike previous posts, however, Simmons disabled the comments on this one. The action might have something to do with her husband pleading guilty to criminal charges related to a Malaysian money laundering scandal last Thursday.
Tim Leissner, a former chairman of Goldman Sachs' Southeast Asia business, was reportedly charged alongside two other individuals over their alleged involvement in the disappearance of billions of dollars from a Malaysian sovereign wealth fund.
"Leissner pleaded guilty to conspiracy to launder money and violate foreign anti-bribery laws, allegedly bribing officials in Malaysia and Abu Dhabi. He has been ordered to forfeit $43.7 million, according to court filings."
Meanwhile, Simmons had allegedly shut down rumors claiming Leissner funded her namesake design label.
THROWBACK TO HAPPIER TIMES
Before news of the guilty plea broke, Simmons was last spotted at a family outing earlier in October. Along with her Leissner, Wolfe Lee, and Kenzo, whom she shares with her Ex, actor Djimon Hounsou, Simmons enjoyed some leisurely fun at Universal Studios Hollywood.
The "Kimora Lee Simmons" boss dressed down for the occasion, as did all her boys, including Wolfe Lee who she pulled around in a stroller.
HAPPY WITH HER GIRLS
Simmons was first married to music executive Russell Simmons and the two share daughters, Ming Lee, 18, and Aoki Lee, 16. A few months back, the girls came together for a photo-shoot promoting their mom's new design collection, and a proud Simmons gushed:
"My little girls have grown into strong supportive young women! Loving this #bts moment of @mingleesimmons & @aokileesimmons on the set of my #resort19 shoot!"
Please fill in your e-mail so we can share with you our top stories!